Cate's footprints feature in sculpture walk
Published On Wed 30 Sep 2015 by Grant Hill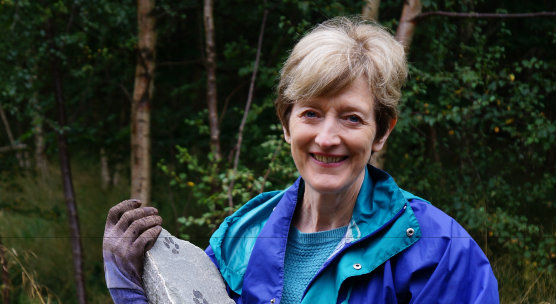 Cate Newton has become the sixth Duncan of Jordanstone College of Art and Design student to see her work installed at the growing sculpture walk at Moncrieffe Hill near Perth.
The Woodlands Trust has been working with the college, part of the University of Dundee, over the past six years to award a sculptural commission to the Year 3 Fine Art student whose designs are judged the best in an annual competition.
Students visit the site, speak with the Woodlands Trust staff and view the previous winning sculptures. They then produce ideas for a piece of outdoors-based artwork and the successful entrant is invited to create the sculpture between their third and fourth years of study. These works are transported to Moncrieffe Woods and installed each September.
Cate's winning sculpture is a series of animal footprints, imprinted into stone with a digital laser-cutter. The stones are embedded in concrete that has been dug into the earth along the various woodlands tracks.
Jill Aitken of the Woodlands Trust said, "This is a wonderful project that continues to grow year by year. I encourage everyone to come see these works in their new sites, and to bring the whole family. Both subtle and surprising for the visitor, Cate's works are now in place and can be seen by the public during a delightful forest stroll."
Established in 1972, the Woodland Trust is the UK's leading woodland conservation charity. Over the past three decades, it has acquired more than 1,000 woodland sites, covering over 20,000 hectares, as it seeks to ensure a country rich in native woods and trees enjoyed and valued by everyone.
For media enquiries contact:
Grant Hill
Press Officer
University of Dundee
Nethergate, Dundee, DD1 4HN
TEL: 01382 384768
E-MAIL: g.hill@dundee.ac.uk
MOBILE: 07854 953277