Brian Cox's latest role – communicating the causes of disease
Published On Tue 1 Dec 2015 by Roddy Isles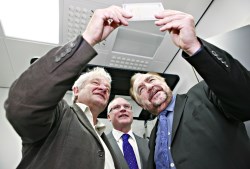 University of Dundee Rector Brian Cox has lent his distinctive voice to a new video explaining how some of the world-leading science taking place in the city is helping us understand the causes of disease.
Brian has provided the voiceover for the animation showcasing the work of the MRC Protein Phosphorylation and Ubiquitylation Unit (MRC-PPU) in the University's School of Life Sciences.
The short film offers a layman-friendly explanation of the work taking place in the Unit, which looks at the biological processes that can lead to diseases such as cancer, hypertension and neurodegenerative conditions such as Parkinson's disease.
The University is one of the world's leading centres for research in the area. Dundee was the top ranked University for Biological Sciences in the Research Excellence Framework 2014, the major assessment of research across the UK.
"I have always been hugely impressed by the work our scientists are doing and I am delighted to play a small part in helping communicate their work to the rest of the world," said Brian.
"Dundee is internationally recognised for the excellence of the work being done here in Life Sciences. Moreover, Life Sciences is also a hugely important part of our local economy, and the work of the MRC-PPU can be a huge inspiration to our next generations of scientists."
Dr Sonal Das, Research Manager at the MRC-PPU, said, "We are incredibly grateful to Brian for supporting our efforts to let the wider world see the kind of work we are doing. We are keen to engage with everyone, particularly schools, and let them get an insight into the work we are doing."
The video was produced with the multi-award winning science animation production company Vivomotion. Mhairi Towler, Director and Founder of Vivomotion, was formerly a post-doctoral researcher in Life Sciences at the University.
The video can be watched via the University of Dundee YouTube channel here:
https://www.youtube.com/watch?v=c7B1TBcjD8o
The MRC PPU is a major research centre that focuses on the understanding of the biological roles of phosphorylation and ubiquitylation and how disruption of these processes cause human diseases such as neurodegeneration, cancer, hypertension and immune disorders.
The MRC PPU operates as a focal point between life scientists, pharmaceutical companies and clinicians to ensure that we make a critical contribution to medical research, working together to develop new and improved strategies to treat disease.
For media enquiries contact:
Roddy Isles
Head of Corporate Communications
University of Dundee
Nethergate, Dundee, DD1 4HN
Tel: +44 (0)1382 384910
Mobile: 07800 581902
Email: r.isles@dundee.ac.uk