Award-winning graduate artist launches first solo Dundee show
Published On Fri 4 Dec 2015 by Grant Hill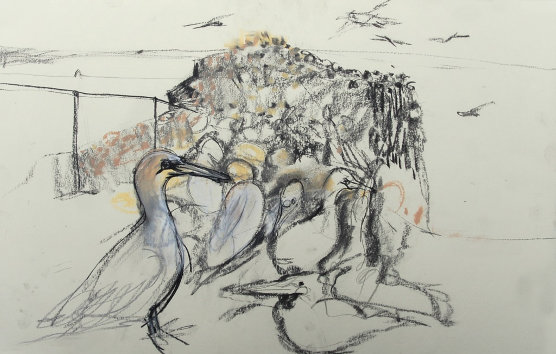 A new exhibition of drawings and screen prints by award-winning wildlife artist Lara Scouller opens in the University of Dundee's Tower Foyer gallery tomorrow.
Lara graduated with a fine art degree from the University's Duncan of Jordanstone College of Art & Design in 2006 and has since held exhibitions across the UK. However, this new show, 'AVEM: a journey with birds',is her first solo exhibition in Dundee, where she still lives and works.
The exhibition features a selection of recent work inspired by her time on the John Busby Seabird Drawing Course earlier this year.
Lara is well-known for her studies of animals in museum collections such as the University's D'Arcy Thompson Zoology Museum and the Bell Pettigrew Museum in St Andrews. Recently she has been drawn to studying birds and their surrounding landscape.
She said, "I like to be immersed in the birds' natural habitat, bringing me closer to their lives. The work shown in this exhibition marks a new phase in my work as an artist."
Curator Matthew Jarron added, "We're delighted to be showing Lara's work at the University. I've been a great admirer of her drawings since she was a student here – she has an exceptional ability to capture the essence of a particular animal in just a few lines of pastel."
Lara has won numerous awards for her drawings including The James Torrance Memorial Award and The Pastel Society Young Artist Award. Her work can also be found in many museum and private collections.
The exhibition runs from Saturday, 5th December until 13th February and is open from 9.30am-7pm on weekdays and from 1-5pm on Saturdays. The gallery will be closed for Christmas from 24th December to 3rd January.
For media enquiries contact:
Grant Hill
Press Officer
University of Dundee
Nethergate, Dundee, DD1 4HN
Tel: +44 (0)1382 384768
Mobile: 07854 953277
Email: g.hill@dundee.ac.uk