Arctic expedition for artist Ellis
Published On Thu 16 Apr 2015 by Roddy Isles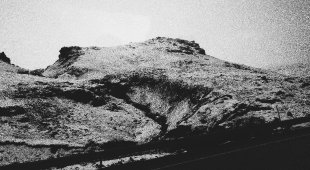 University of Dundee student Ellis O'Connor will boldly go where few people – and fewer artists – have gone before after being selected for a month-long residency in the Arctic.
Ellis (23) graduated from Duncan of Jordanstone College of Art and Design, part of the University, last year and recently won the RSA Landscape Award at the prestigious New Contemporaries exhibition in Edinburgh.
She has been selected by the Arctic Circle organisation to be one of ten artists from across the world to take part in the expedition around Svalbard in the High Arctic, where Polar Bears outnumber people, in 2016. Ellis, a current postgraduate student in the MFA in Art & Humanities programme, will spend the residency period working on a boat circling the remote archipelago and creating work during and after her time there.
This award, the fifth sponsored residency she has been awarded, will allow Ellis to continue her highly successful practice of creating landscape drawings and paintings based on the remote outposts of outstanding beauty she visits.
Ellis, from Dundee and a former pupil of Braeview Academy, explained, "My work deals with different elements of remote landscapes – the spirit of place, traces of the land and the sublime. My passion came from when I was younger and my dad used to take me camping up north, which he always tried to persuade us was better than going on holiday abroad!
"I remember going to Glen Coe when I was about 10 and it made a real impression on me. From then the beauty I saw in these places was always in the back of my mind. Then when I was at art school I went on a big trip around the Scottish coast with my friend and I ended up taking so many photos of this beautiful scenery and everything came together.
"That was the real inspiration to keep pushing this aspect and to keep travelling to really remote places. Within certain remote places there is a feeling of powerful atmosphere. I work with photography, printmaking, drawing and painting and I like to mix them together to demonstrate the same meaning but through different visual representations.
"I am incredibly excited about having the opportunity to visit Svalbard, which is the nearest island to the North Pole, and to work there. We will be anchoring in various places seeing places that fewer people than polar bears see."
The Arctic Circle is an artist- and scientist-led organisation expeditionary residency programme bringing together practitioners from different disciplines to explore remote and fascinating destinations aboard a specially fitted vessel.
More information is available at http://www.thearcticcircle.org/.
Roddy Isles
Head of Press
TEL: 01382 384910
MOBILE: 07800 581902
E-MAIL: r.isles@dundee.ac.uk