Architects to draw upon 50 years of memories at reunion
Published On Thu 24 Sep 2015 by Grant Hill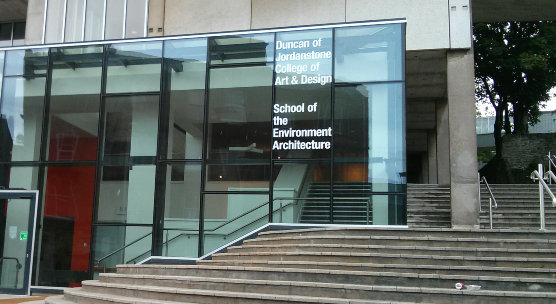 A group of architects will return to their alma mater this Friday to celebrate the 50th anniversary of them starting their training.
Members of the 1965 architecture intake will meet at the front steps of Duncan of Jordanstone College of Art and Design at 12noon on Friday, 25th September. Around 18 classmates are expected to attend the reunion, which will see them tour the college, now part of the University of Dundee, to see how it has changed in the half-century since they first nervously walked through the doors of the Perth Road building.
After meeting with Graeme Hutton, Professor of Architecture, Associate Dean and Head of Architecture + Planning at the University, the group will be given the chance to engage with current students undertaking a 'Places in Dundee' project.
Professor Hutton said, "We are delighted to welcome our architecture alumni back for this reunion. Not only will they have the chance to reminisce with old friends they may not have seen for years, they will also have the chance to see how architecture education has changed over the past 50 years, meet with today's students and find out what makes us such a forward-thinking place to study architecture."
For media enquiries contact:
Grant Hill
Press Officer
University of Dundee
Nethergate, Dundee, DD1 4HN
TEL: 01382 384768
E-MAIL: g.hill@dundee.ac.uk
MOBILE: 07854 953277