Ambitious first showcase of Scotland's contemporary artists in China
Published On Thu 25 Jun 2015 by Grant Hill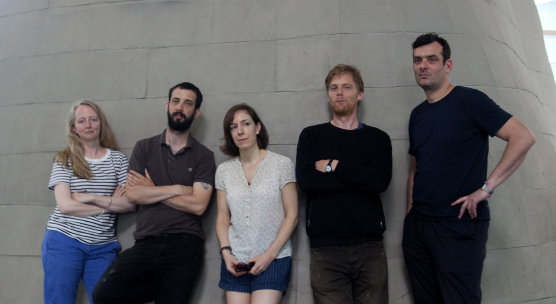 The first major showcase of Scotland's internationally renowned contemporary art scene in China, a collaboration between the University of Dundee's Cooper Gallery and Shanghai Himalayas Museum, opens this weekend.
CURRENT comprises eight exhibitions featuring more than 50 artists over an 18 month period and is co-curated by Sophia Hao, of Cooper Gallery, and Wang Nanming, an independent curator and critic in Shanghai.
The first phase of CURRENT features work from Poster Club, an artists' collaborative group, and Edgar Schmitz. It opens on Saturday, 27th June to coincide with the British Council's UK Season in China. CURRENT will conclude in December 2016 to overlap with the 11th Shanghai Biennale.
Poster Club's exhibition features work by Ciara Philips (last year's Turner prize runner-up), Michael Stumpf, Nicolas Party, Anne-Marie Copestake, Charlie Hammond and Tom O'Sullivan. The group will also make a new installation and host participatory events.
Surplus Cameo Decor: Sindanao 2 by Edgar Schmitz transforms Shanghai Himalayas Museum into a cinematic set for plots and invited cameos by leading figures in the Chinese/Scottish cultural scenes to create a critique on cultural production.
Sophia Hao said, "Borne out of 3 years of close conversations and collaborative work between Cooper Gallery and Shanghai Himalayas, we've put together a radical curatorial programme which will champion the great strengths of Scotland's visual artists and art to audiences in China by situating its distinctiveness and complexity within a global discourse on the 'contemporary'.
"Through showing contemporary artworks from Scotland in China, the programme brings two radically different experiences of 'the contemporary' into proximity. CURRENT provides an important opportunity to boost knowledge and awareness of Scottish culture in a key international arena while enabling future exchange and collaboration opportunities between China and Scotland."
Demonstrating the excellence and distinctiveness of contemporary art made in Scotland, its grass-roots spirit and its keen engagement with social and political debates, CURRENT will showcase new and existing works by artists including Bruce McLean, Poster Club, Edgar Schmitz, Ross Sinclair, Lucy Skaer and Corin Sworn.
CURRENT will also include important works from the REWIND Archive housed at Duncan of Jordanstone College of Art & Design, part of the University of Dundee, and a Moving Image Screening Programme featuring emerging artists in Scotland.
Artists' and writers' residencies will run alongside the exhibition, as will international speakers' forums with 12 speakers from Scotland and around the world will discuss the contemporary and transnational global aspects of the arts today. There will also be a public engagement programme allowing artists and curators to interact with Chinese artists, curators and the public.
Running alongside will be artists' residencies with Poster Club building on work in their exhibition and a 4-week residency with Anne-Marie Copestake when she will collaborate with artists and musicians in Shanghai. Art writer and member of Cooper Gallery's Group Critical Writing initiative Frances Davis will be the Art Writer in Residence, reflecting and annotating upon CURRENT in Shanghai.
Drawing on and foregrounding Scotland's rich social history of cultural activity, the artists brought together in CURRENT illustrate the oppositions, contradictions and paradoxes that give contemporary art and culture in Scotland such experimental energy. One of its strengths, reflexivity, was demonstrated in 2014 when the scope and scale of contemporary art in Scotland was reflected upon and celebrated through GENERATION, with exhibitions and events across the country which Cooper Gallery and artists in CURRENT also participated in.
From early in the 20th century Shanghai has been one of the most exciting cities for international cultural exchange. Since 1994, Shanghai's Biennale has led the rapid development of contemporary art in China and Asia and fed an expanding art scene which now supports over 200 government run and privately funded art museums and galleries and 8 major art schools.
Janet Archer, Chief Executive of Creative Scotland, said, "This is a major showcase opportunity for some of the very best contemporary art from Scotland to find new audiences in China. We are extremely proud of Scotland's reputation as an international centre for the visual arts and expect this project will do much to strengthen this. Through a dynamic programme of events and exhibitions we look forward to making new connections and establishing future opportunities for creative exchange."
Lloyd Anderson, Director of British Council Scotland said, "CURRENT is set to bring to China one of Scotland's strongest cultural assets: contemporary art. The coincidence of timing with our UK Season in China and the Shanghai Biennale makes this an incredible opportunity to present a comprehensive showcase of work by Scotland's wealth of terrific contemporary artists and extend the reach and impact of their work and Scotland's cultural profile.
"With exciting cultural and economic prospects in China and the success of the GENERATION programme in Scotland which impressed the international curators the British Council invited over to see it, the timing is right to realise this thought-provoking and rich programme of contemporary art from Scotland in collaboration with a leading art museum in China."
Notes to Editors:
Cooper Gallery, Dundee
Cooper Gallery, Dundee is a public gallery associated with one of the most respected art colleges in the UK, Duncan of Jordanstone College of Art & Design at the University of Dundee. Under the curatorship of Sophia Hao, Cooper Gallery is rapidly gaining international recognition as a distinctive platform in Scotland for groundbreaking curatorial research and critical discourses in contemporary art and culture. Since 2010, Cooper Gallery's unique new model of curating, grounded in discursive, participatory and process-led strategies has led to highly celebrated project including major exhibitions and commissions by Paul Noble, Bruce McLean, Viola Yes?iltaç, Anna Oppermann, Georgina Starr, Rose English, Kathrin Sonntag, Lynda Morris, Graham Eatough & Graham Fagen and Henry VIII's Wives. Most recently the Gallery presented the large scale survey exhibition Studio Jamming: Artists' Collaborations in Scotland.
Shanghai Himalayas Museum
Formerly the Zendai Museum of Modern Art, Shanghai Himalayas opened in 2005 and has become one of the most prestigious and largest private art museums in China. In 2013 it opened four new galleries with 1,950 m2 of exhibition space and receives 500,000 visitors annually.
Wang Nanming, Head of Research and Curator of Himalayas Museum is a well-respected international curator and critic in China and has organised international contemporary art exchange projects in China, Europe and America.
British Council
The programme will be launched during the British Council season 'UK in China' and is being supported by the British Council. British Council has a successful relationship with Shanghai Himalayas Museum having worked as a partner on the critically acclaimed retrospective of British sculptor Tony Cragg in 2012, Sean Scully and Michael Craig-Martin in 2015.
The artists
The artists involved in CURRENT reflect the ambition, excellence and experimentation of contemporary art in Scotland and are recognized internationally. This is evident in the prestigious awards they have received: Bruce McLean is a pre-eminent figure in the art world; Ciara Phillips & Lucy Skaer are Turner Prize nominees, Corin Sworn was awarded the Max Mara Art Prize for Women (2013) and represented Scotland at the 55th Venice Biennale in 2013.
CURRENT represents a strong legacy for GENERATION. Not only did many of the artists exhibit in GENERATION (e.g. Ross Sinclair, Lucy Skaer, Corin Sworn, Ciara Philips, Anne-Marie Copestake, Charlie Hammond, Tom O'Sullivan, Nicolas Party), CURRENT will also include the 'next' generation of artists from Scotland and will therefore tell the story of contemporary culture in Scotland.
Poster Club : is a group of artists who collaborate on designing and printing posters. Using the poster format as an open-ended starting point for their projects, Poster Club's primary interest is in using the medium of print as a site for experimental collaborative practice. Poster Club are Anne-Marie Copestake, Charlie Hammond, Tom O'Sullivan, Nicolas Party, Ciara Phillips and Michael Stumpf.
Poster Club's ideals are succinct yet open.
1. Make posters
2. Collaborate
They approach the idea of what a 'poster' is, and can be, by creating works that announce their own presence without informing us as to what they might mean. Instead of 'objective' information, their posters offer elusive statements, open-ended questions and humorous conjunctions.
Poster Club have exhibited at: Martha Street Studio, Winnipeg (2014), Dundee Contemporary Arts (2013), Platform, Glasgow (2013), The Duchy, Glasgow (2013), Glasgow Print Studio (2011) and Eastside Projects, Birmingham (2011).
Edgar Schmitz: German. He is the co-director of A Conversation in Many Parts, an international discursive platform for contemporary art and concepts, and a lecturer in Critical Studies at Goldsmiths. His first solo exhibition in Scotland received 4* review from The Times (Surplus Cameo Decor curated by Cooper Gallery, Duncan of Jordanstone College of Art & Design). CURRENT sees Schmitz reconfigure and add to his Cooper Gallery exhibition for the context of Shanghai Himalayas Museum.
For media enquiries contact:
Grant Hill
Press Officer
University of Dundee
Nethergate, Dundee, DD1 4HN
TEL: 01382 384768
E-MAIL: g.hill@dundee.ac.uk
MOBILE: 07854 953277