£10m award to establish Leverhulme Centre for Forensic Science at Dundee
Published On Thu 3 Dec 2015 by Roddy Isles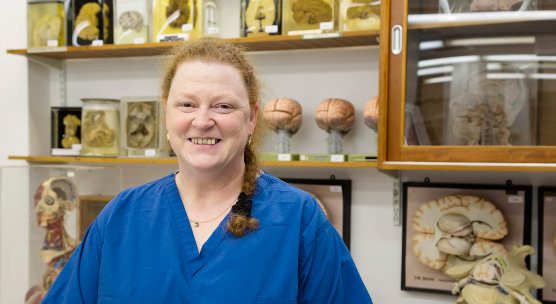 The University of Dundee has been granted a £10million award by the Leverhulme Trust to establish a Research Centre for Forensic Science aimed at shaping the future of the subject and ensuring it remains a vital component of the criminal justice system.
Dundee is one of four UK universities – alongside Cambridge, Liverpool and Sheffield – to win the new Leverhulme Research Centre awards. Each centre will be funded for up to £10 million over 10 years, to support fundamental cross-disciplinary research across the whole range of the STEM (science, technology, engineering and maths) subjects, humanities and social sciences.
The award to Dundee builds on the University's international reputation as a centre of excellence in forensic science. The new Centre will be led by Professor Sue Black, Director of the University's Centre for Anatomy and Human Identification (CAHID).
"I am delighted that the Leverhulme Trust has decided to make such a major investment in our work here at Dundee," said Professor Black. "This really is recognition of our standing as one of the world's leading centres for research in forensic science."
Professor Black said the new Centre would address the "crisis" currently facing forensic science.
"Forensic science is a highly valued component of the criminal justice system but it is widely recognised to be in crisis," said Professor Black. "We have research gaps in a range of evidence types, from fingerprinting to DNA analysis and we have to raise the bar in the standards of science underpinning these vital techniques.
"We will work across the forensic science and judicial landscapes and communities to address the existing research gaps, unlock enterprise potential with industry to encourage emerging opportunities and restore public and judicial confidence in forensic science."
Niamh Nic Daeid, Professor of Forensic Science in CAHID, said, "We need to stimulate the research and evidence base for forensic science and create pathways for innovation, enterprise and enlightened engagement at national, international and global levels. This will ensure a step change in the reliability of forensic science evidence so that we can go forward with confidence into the future.
"At Dundee we are uniquely well placed to take on this challenge as we combine the necessary strands of forensic expertise that are vital to take the discipline forward."
The competition for the Leverhulme Research Centre awards was designed to encourage original research which would establish or reshape a significant field of study and transform our understanding of an important topic in contemporary societies.
The Trust encourages research which is fundamental or curiosity-driven, multi-disciplinary, and often higher risk. Applicants were therefore invited to be bold in compiling their bids. In line with the Trust's responsive-mode of operation the choice of research topic was left deliberately open. The quality of the bids was exceptionally high and the task of selecting these four was correspondingly challenging, according to the Trust.
Professor Gordon Marshall, Director of the Trust, said, "The new Leverhulme Trust Centres are a major investment in discovery-led research at a time when funding for scholarly inquiry is under great pressure. They are our vote-of-confidence in the quality of the UK's outstanding researchers at every level. Each Centre will embrace multi-disciplinary and international collaborations designed to bring the highest calibre of expertise to bear on these exciting areas of inquiry. We look forward to working with our new award holders over the coming years as they explore these new research agendas."
The other Leverhulme Centres are:
The Leverhulme Centre for the Future of Intelligence (Professor Huw Price, University of Cambridge)
The Leverhulme Centre for Functional Materials Design (Professor Andrew Cooper, University of Liverpool)
The Leverhulme Centre for Climate Change Mitigation (Professor David Beerling, University of Sheffield)
Notes to Editors
Forensic Science at the University of Dundee
The Centre for Anatomy and Human Identification (CAHID) at the University of Dundee is headed by Professor Sue Black. It is one of the world's foremost institutions for the study and application of human anatomy, forensic human identification, disaster victim identification, forensic science research and forensic and medical art. It was awarded the Queen's Anniversary Prize for Higher Education 2014.
The Leverhulme Trust
The Leverhulme Trust was established in 1925 under the Will of the first Viscount Leverhulme. It is one of the largest all-subject providers of research funding in the UK, distributing funds of more than £80 million every year. For further information about the schemes that the Leverhulme Trust fund visit our website at www.leverhulme.ac.uk / @LeverhulmeTrust
For media enquiries contact:
Roddy Isles
Head of Corporate Communications
University of Dundee
Nethergate, Dundee, DD1 4HN
Tel: +44 (0)1382 384910
Mobile: 07800 581902
Email: r.isles@dundee.ac.uk