Archived exhibition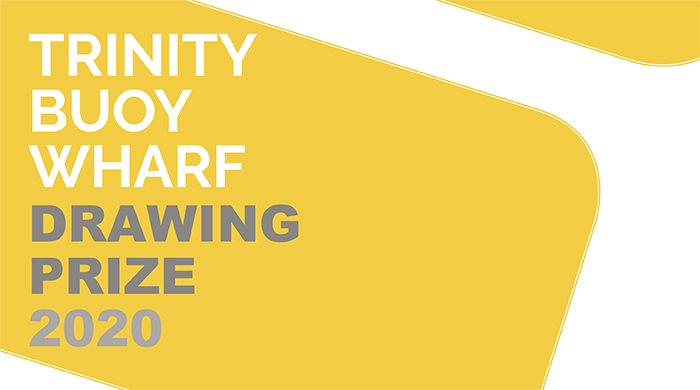 Trinity Buoy Wharf Drawing Prize 2020
Date: 13 November 2020 - 19 December 2020
Gallery: Cooper Gallery
Trinity Buoy Wharf Drawing Prize 2020
13 November — 19 December 2020

Free tickets available at Eventbrite.

Cooper Gallery hosts the prestigious annual open call exhibition; Trinity Buoy Wharf Drawing Prize 2020. Featuring 71 works by 56 artists selected out of 4274 entries from 42 countries, the exhibition includes works shortlisted for the Drawing Prize and Working Drawing Award.
The exhibition reflects a broad scope of contemporary drawing practice produced by artists, designers and makers at all stages of their careers—from students to established artists—located across the UK, France, Italy, Spain, The Netherlands and Turkey.
The Trinity Buoy Wharf Drawing Prize has an established reputation as the UK's most important annual exhibition of drawing. Led by Professor Anita Taylor, Dean of Duncan of Jordanstone College of Art and Design at the University of Dundee, and supported by the Trinity Buoy Wharf Trust, the Drawing Prize exhibition is known for its influential role in promoting and celebrating contemporary drawing practice and championing the role and value of drawing as a vital means of communication and expression.
Trinity Buoy Wharf Drawing Prize 2020 was selected by Sophia Yadong Hao, Principal Curator of Cooper Gallery DJCAD; artist Ian McKeever RA; and Frances Morris, Director of Tate Modern.
The Working Drawing Award 2020 was selected by Sir Ian Blatchford, Director of the Science Museum, London; Piers Gough CBE RA, Architect; and Sophie McKinlay, Director of Programme at V&A Dundee.
Artists
The artists shortlisted for the Trinity Buoy Wharf Drawing Prize 2020 are:
Akash Bhatt, Andy Black, Anna Barratt, Ayeshah Zolghadr, Becky Allen, Bob Deakin, Camilla Brueton, Carolyn Black, Catrin Webster, Cheryl Lewis, Chris Bruce, Christopher Jones, Demeter Dykes, Eleanor Wood, Frank Leuwer, Helena McGrath, Holly Mills, Hormazd Narielwalla, Iain Andrews, Isabel Rock, James Robert Morrison, Joe Dean, Kay McCrann, Laura Jacobs, Louise Schmid, Lucy Anderson, M. Lohrum, Mandy Bonnell, Mark Clay, Nancy Haslam-Chance, Nicola Grellier, Nigel Bird, Nina Chua, Peter Sutton, R & F Mo, Rae Fior Lowe, Rebecca Bramwell, Ruth Richmond, Sally Wood, Sandy Kendall, Seamus Staunton, Setenay Alpsoy, Siân Bowen & Simón Granell, Simon Brewster, Tricia Gillman, Wai Yin Ryan Tung, and Yutavia George.
The artists shortlisted for the Working Drawing Award are:
Ben Johnson, Jack Green, Jeanette Barnes, Malcolm Franklin, Myyen Dang, Rachel Duckhouse, Savvas Papasavva, and Zihao Mei.

Download the TBWDP20 exhibition handout.

Events
An online event programme expanding the depth and spread of drawing accompanies the exhibition at Cooper Gallery.

Trinity Buoy Wharf Drawing Prize 2020 | Opening Event & Panel Discussion
Friday 13 November, 2020, 6–7.30pm

Nina Chua | A Prompt for a Drawing
13 November – 19 December 2020

Rhona Jack | Freehand Weaving
Tuesday 24 November, 1–3pm

IN AND EASE  
26 November 2020, 6–8pm

Paul Noble | Time draws...
Thursday 3 December 2020, 1-2pm

Adam Benmakhlouf | As Empathic As It Is Unfaithful: An Illustrated Talk on Drawing
Tuesday 8 December 2020, 6–8pm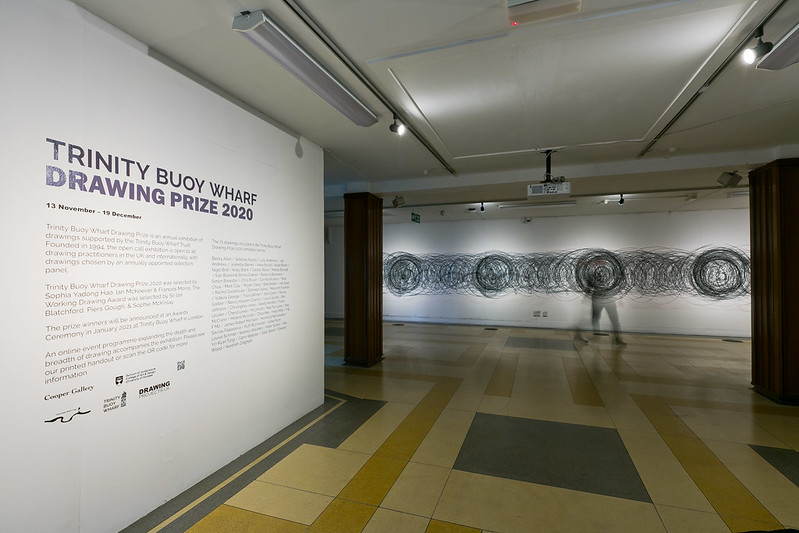 M. Lohrum won the Trinity Buoy Wharf First Prize for the participatory drawing, You Are It, seen here at Cooper Gallery, performed by Rachel Ashton, Mary Baker, Lucia Edgar, Declan McCourt, Sara Pakdel-Cherry, and Beth Radic; Contemporary Art Practice students at Duncan of Jordanstone College of Art and Design, University of Dundee, on 16 November 2020.
____________________
Venue Information

We are delighted to be re-opening and welcome you back to Cooper Gallery. To help us to keep you and others safe we have introduced new safety measures in line with Scottish Government and University of Dundee COVID-19 guidelines.

Our staff will be wearing face coverings within the gallery, observing physical distancing and guidance on regular handwashing. We have put in place additional cleaning measures including for all contact points within the gallery and wheelchair accessible toilet.
During your visit we would ask that you please:
· Sanitise your hands on entry using the dispenser provided
· Wear a face covering inside, unless you are exempt from doing so
· Maintain 2 metres apart from other visitors and staff
. Observe one-way signage in the gallery
Booking
The exhibition is free but ticketed. Please book one ticket for each person visiting.
Please book in advance selecting an available 1hr time slot on Eventbrite.
If you wish to extend your visit please feel free to book multiple time slots.

Address
Cooper Gallery
Duncan of Jordanstone College of Art & Design
University of Dundee
13 Perth Road
Dundee DD1 4HT
Access
The gallery is on two floors. First floor has ramped access and disabled toilet.
Second floor is accessible via lift and for wheelchair access via a stairclimber.
Large print versions of the exhibition information handout are available, please ask our Guides.

Due to additional safety measures please email in advance if you require lift or stairclimber access so we can arrange support.

All enquiries please contact: exhibitions@dundee.ac.uk

Opening Times
Tuesday – Saturday: 11am – 4pm
Sunday: Closed

*
Images of artworks by shortlisted artists: James Robert Morrison, Nina Chua, M. Lohrum, Nancy Haslam-Chance, Isabel Rock, Ben Johnson, R & F Mo and Chris Bruce.

*
The Trinity Buoy Wharf Drawing Prize project is led by its founding Director, Professor Anita Taylor, artist, educator, curator, founder of Drawing Projects UK and Dean of Duncan of Jordanstone College of Art and Design at the University of Dundee. The Drawing Prize project was founded in 1994 as the Rexel Derwent Open Drawing Exhibition and was known from 1996-2000 as the Cheltenham Open Drawing Exhibition. From 2001-2017 it was known as Jerwood Drawing Prize, with Jerwood Charitable Foundation the principal benefactor. Previous supporters have included Westland Nurseries, The Summerfield Charitable Trust, CHK Charities, Rootstein Hopkins Foundation and Evelyn Williams Trust.

Touring venues
All shortlisted works will be exhibited in the following venues:
• Drawing Projects UK, Trowbridge, 2 October – 31 October 2020
• Cooper Gallery, Dundee, 13 November – 19 December 2020
• Trinity Buoy Wharf, London, 9 January – 22 January 2021
• The Gallery at Arts University Bournemouth, Spring 2021 (dates TBC)