Opening Event & Panel Discussion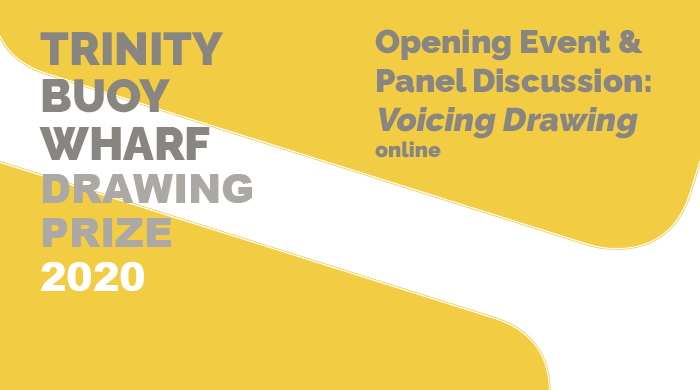 Opening Event & Panel Discussion | Trinity Buoy Wharf Drawing Prize 2020
Date: 13 November 2020 - 13 November 2020
Gallery: Off-site venue
Trinity Buoy Wharf Drawing Prize 2020
Opening Event & Panel Discussion
Voicing Drawing
Speakers: Kate Davis, Tania Kovats, Hardeep Pandhal, Anita Taylor
Chaired by Prof Mike Collier
Friday 13 November, 2020, 6–7.30pm
Online

To celebrate the occasion of the Trinity Buoy Wharf Drawing Prize 2020 opening here in Dundee, join us online to hear Prof. Anita Taylor, the founding director of the Trinity Buoy Wharf Drawing Prize and Dean of Duncan of Jordanstone College of Art and Design, University of Dundee, elucidate a short history of this prestigious annual open call exhibition of drawing and its 2020 edition.
Featuring leading artists who work in the expanded field of drawing including Kate Davis, Tania Kovats, Hardeep Pandhal and Anita Taylor, our opening event will be completed by Voicing Drawing, an insightful panel discussion illuminating the modes, politics and 'affect' of drawing.


Sign-up
This event is free and open to all. Places can be booked via Eventbrite.
A link to view the video call will be sent upon sign-up.

Speaker Biographies

Kate Davis (b.1977, New Zealand) lives and works in Glasgow. Her work in drawing, moving image, printmaking, installation and bookworks questions how to bear witness to the complexities of the past. Reconsidering what certain histories could look, sound and feel like, this has often involved responding to the aesthetic and political ambiguities of historical art works and their reception.
Solo exhibitions include: Charity, LUX, London; Nudes Never Wear Glasses, Stills, Edinburgh; The Unswept Floor, Dunedin Public Art Gallery, NZ; Not Just the Perfect Moments, The Drawing Room, London; Eight Blocks or a Field, Temporary Gallery, Cologne; Peace at last!, Gallery of Modern Art, Glasgow; Ranziges Fett, Galerie Kamm, Berlin; ¿Qué tenemos que hacer con una habitación propia?, Museo de la Ciudad and La Galeria de Comercio, Mexico; The Long Loch: How Do We Go On From Here?, CCA, Glasgow (with Faith Wilding); Your Body is a Battleground Still, Tate Britain, London; Stop! Stop! Stop!, Kunsthalle Basel and Outsider, Sorcha Dallas, Glasgow.
Awards include: The Margaret Tait Award 2016/17; LUX/ BBC Artists and Archive commission; Smithsonian Artist Research Fellowship; Camden Arts Centre Artist in Residence; Banff Centre for the Arts Residency.
Group exhibitions/ screenings include: Termite, Tapeworm, Fungus, Moss, CCA Intermedia, Glasgow (forthcoming); 35th Kassel Documentary Film and Video Festival; Class Reunion, MUMOK, Vienna; A Slice Through the World: Contemporary Artists' Drawings, Modern Art Oxford; The Driver's Seat, Cubitt Gallery, London; Cinenova Presents Now Showing, LUX Cornwall, St Ives; GENERATION exhibition, Scottish National Gallery of Modern Art; HOUSE WORK CASTLE MILK WOMAN HOUSE, Glasgow Women's Library; Art Under Attack: Histories of British Iconoclasm, Tate Britain; For Each Gesture Another Character, Art Stations Foundation, Poznan, Poland; eva International 2012, Limerick, Ireland; Olinka or Where Movement is Created, Museo Rufino Tamayo, Mexico City. Further information at: katedavisartist.co.uk.

Tania Kovats is an artist whose work explores how culture negotiates how we connect to the natural world. Her practice embraces sculpture, drawing and writing, often working in the public realm. Recently this has focused on the element of water as the connective element in the landscape. Kovats explores the psychological and poetic, as well as activating water to provide a route to explore critical environmental and socio-political questions. Kovats is an advocate for drawing as a specific and unique discipline and form of expression with its own discrete discourse that renders thought visible and external. She celebrates the democratic nature of drawing, its unique horizontal quality that describes a link through the thoughts and visualisations of scientists, engineers, sculptors, designers, performers, children, architects, surgeons – the list is endless. Kovats celebrates how drawing belongs to everyone and is an infinite and varied means of communication that continues to be expanded and enriched by practitioners. This philosophy has informed Kovats' drawing publications, Drawing Water: drawing as a mechanism of exploration her second publication on drawing with writing on a collection of drawings all thematically linked by the sea.
Some of Kovats' work in Scotland includes Rivers at Jupiter Artland, Oceans, her 2014 solo show at the Fruitmarket Gallery Edinburgh, and Well a public drinking water fountain commissioned by Design Exhibition Scotland. Kovats has recently been appointed Professor of Drawing and Making at DJCAD, University of Dundee.


Hardeep Pandhal (b. 1985, Birmingham) lives and works in Glasgow. He received a Leverhulme Scholarship to complete the MFA programme at The Glasgow School of Art in 2013. Recent solo exhibitions include: Confessions of a Thug: Pakiveli, Tramway, Glasgow; Paranoid Picnic: The Phantom BAME, New Art Exchange and Primary, Nottingham (2018); Self-Loathing Flashmob, Kelvin Hall, Glasgow International 2018, Glasgow;  Liar Hydrant, Cubitt, London (2018). Recent group exhibitions include: Is This Tomorrow?, Whitechapel Gallery, London (2019); 2018 Triennial: Songs for Sabotage,  New Museum, New York (2018). He was shortlisted for the 2018 Film London Jarman Award.


Professor Anita Taylor is an artist, curator and educator, and is the current Dean of Duncan of Jordanstone College of Art & Design at the University of Dundee. She is founding Director of the Trinity Buoy Wharf Drawing Prize (1994) and Drawing Projects UK (2009). She has extensive teaching, research and review experience in the UK and internationally, and previous academic leadership roles have included: Executive Dean of Bath School of Art and Design at Bath Spa University; Director & CEO, National Art School in Sydney, Australia; Dean of Wimbledon College of Art, University of the Arts London [UAL]; Director, The Research Centre for Drawing at UAL; and Vice Principal of Wimbledon School of Art. After graduating from MA Painting at the Royal College of Art (1987) she became Artist-in-Residence at Durham Cathedral (1987-88) and Cheltenham Fellow in Painting (1988-89).
Solo exhibitions of her work include: Witness, Young Gallery, Salisbury (2018); DRAWN, The Customs House, South Shields (2017); Drawing Projects UK (2019, 2016-17); William Wright Artists Projects (Sydney 2014); The Drawing Room, Sydney (2011); Peter Pinson Gallery, Sydney (2009); The Drawing Gallery (2009, 2004). Her drawings have been included in recent exhibitions at Blyth Gallery, Imperial College London (2019); The Global Centre for Drawing, Langford120, Melbourne (2018, 2013, 2011); Jerwood Gallery (2016, 2014); Victoria & Albert Museum (2009); and are held in public collections, including the Victoria & Albert Museum and Jerwood Foundation. Awards include the Malvern Award for Drawing (1993); Drawing Award, Hunting Art Prizes 1999; First Prize, Hunting Art Prizes 2000.
She has curated numerous exhibitions of drawing that include Drawing Breath, London & international tour, (2006-08) and Drawn Together for Jerwood Gallery (2013) in association with the Drawing Prize project; and organised solo exhibitions and presentations by: Barbara Walker (Vanishing Point, Jerwood Gallery, Hastings, 2018-19), Lyndal Jones (Rehearsing Catastrophe: An Ark for Somerset, The Holburne, Bath, 2014); Sheela Gowda (Behold, NAS Gallery, Sydney, 2010); and the exhibition programmes for Drawing Projects UK since 2015. Co-author of Drawing (Cassell Illustrated, first published 2003), she has written articles for The Guardian/Observer, Craft Arts International, Guardian Culture Professionals Network, Garageland, and RA Magazine. Interviews with her have been featured in After Nyne (2018), Interalia (2016); Studio International (2014); Times Higher Education (2013); and the Artist's Lives, Oral History Collection, National Life Stories in the British Library Sound Archive.

Prof Mike Collier is a lecturer, writer, curator and artist. He studied Fine Art at Goldsmiths College, London before being appointed Gallery Manager at the ICA in London. He subsequently became a freelance curator and arts organiser, working extensively in the UK and abroad. In 1985, he was appointed Senior Exhibition's Officer at the Laing Art Gallery where he initiated the Tyne International and co-ordinated the New Work Newcastle Performance Art seasons in collaboration with Project's UK (now Locus+). Throughput his working career, he has maintained his artistic practice. Much of his work is based around walking - through the city, the countryside and urban Edgelands. It is usually place-specific and explores our relationship to a 'more than human' world, paying close attention to the environment through which he walks. He has shown in the UK and abroad and his work is in a number of public and private collections and is currently working on a long-term interdisciplinary project called The Dawn Chorus: A More-Than-Human Culture.
____________________

This event marks the opening of the exhibition Trinity Buoy Wharf Drawing Prize 2020, 13 November – 19 December 2020 at Cooper Gallery.


Venue Information
Event will stream on YouTube. To ask questions, please sign into YouTube and add comments in the text box.
For access enquiries please contact exhibitions@dundee.ac.uk