Student's vision for coffee grounds serves up glasses with specs appeal
Published On Mon 13 May 2019 by Jonathan Watson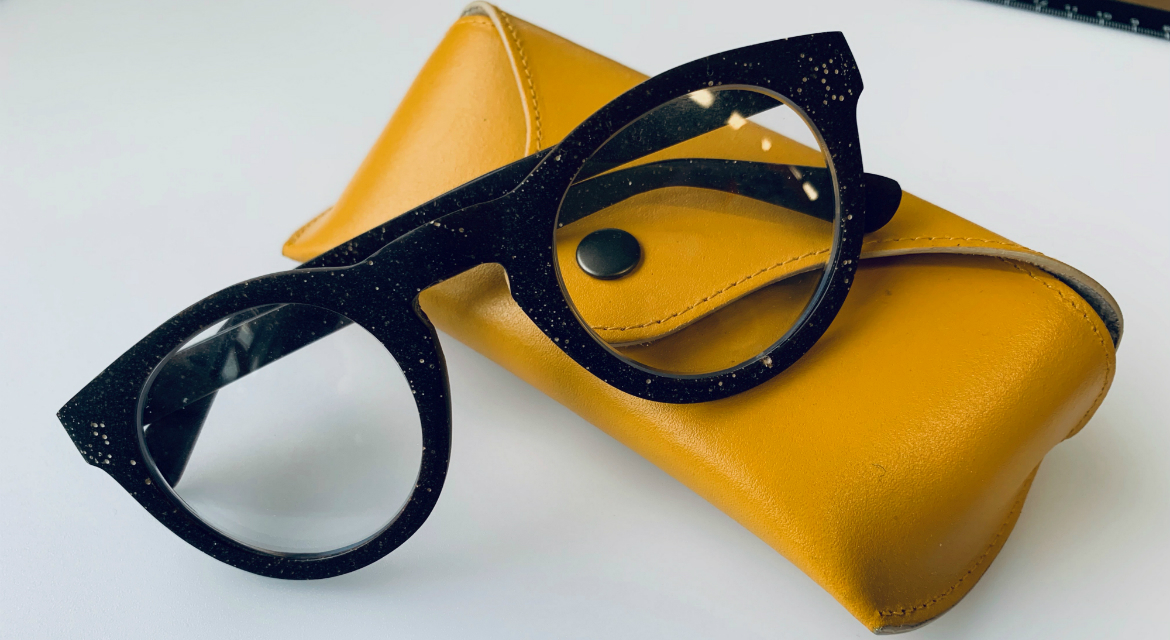 A University of Dundee student is brewing up a fashion storm after creating a range of glasses made from coffee grounds.
Product Design student Ryan Davren says that his brand 'Flat White' is a gold blend of style and sustainability that will satisfy fashionistas and environmental champions alike.
Using grounds that would normally be sent to landfill to create the distinctive frames, the 24-year-old from Glasgow's Bishopbriggs is preparing to showcase his bold concept at this year's Duncan of Jordanstone College of Art & Design and Architecture Degree Show.
After developing his concept while working in a city café, Ryan says that early feedback to his designs suggest that Flat White has a shot of achieving commercial success.
"We live in a society that is fuelled by coffee but responsible for producing waste," he said.
"Every time I make a cup of coffee, a hockey-puck-size of compressed coffee is produced. I used to think that this was compostable, but it is actually sent to landfill. It is a hard material to recycle and that is when I decided I would try and attribute some value to it by turning it in to frames for glasses.
"So far the response has been overwhelmingly positive. These first pairs are produced by myself in a workshop, but there is no reason why they could not be mass produced."
Approximately 95 million cups of coffee are consumed every day in the UK, generating vast sums of coffee grounds. With little commercial use for the waste material, Ryan decided to utilise and manipulate the grounds to produce frames for glasses.
While modern-day Dundee enjoys a reputation as a hub for design and creativity, Ryan has reflected the city's industrial past by mixing flax seed with the coffee grounds. As well as creating the bonding effect necessary to cast the frame, the distinctive speckle effect means that every pair of Flat White glasses is unique in appearance.
A passionate supporter of sustainable living, Ryan decided to use the grounds to create frames in an effort to promote discussion about environmental issues.
"The face is prime real estate and glasses are always a good conversation starter," he continued.
"Because they look a bit different they promote conversation about what they are made of and this serves to highlight the environmental issues in our culture.
"The material is castable and is very similar to wood to work with. The frames retain an organic smell, not like coffee, but there is an earthy character to every pair. The material is also incredibly robust, so I'm delighted with what I have been able to create."
Duncan of Jordanstone College of Art & Design is one of the leading art and design schools in the UK, with many of its students forging careers as world-leading artists, animators, designers and makers.
Alumni include Turner Prize winner Susan Philipsz, illustrator Jo Basford, fashion designer Hayley Scanlan, and the late painter Alberto Morrocco.
The annual Degree Show attracts more than 15,000 visitors, with this year's event running from Friday 17 May to Saturday 26 May.
For media enquiries contact:
Dominic Glasgow
Media Relations Officer
University of Dundee
Nethergate, Dundee, DD1 4HN
Tel: +44 (0)1382 385131
Email: d.w.glasgow@dundee.ac.uk