Shorthand work helps artist deal with pain of miscarriage
Published On Tue 20 Aug 2019 by Grant Hill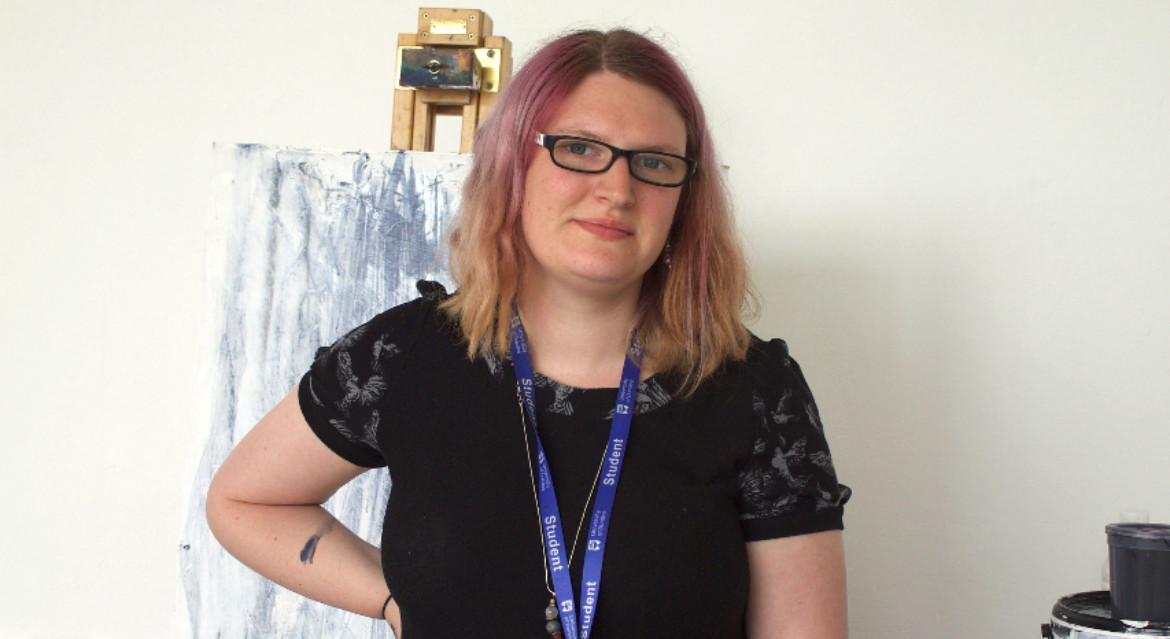 An art student and former journalist has created a series of shorthand-inspired works to help her cope with the trauma of miscarriage.
Ana Hine produced the pieces as part of her MFA Art & Humanities course at Duncan of Jordanstone College of Art & Design. Her project is one of more than 80 exhibits at this year's Masters Show, which runs until this weekend.
Ana used Teeline shorthand, a form of note-taking that increases the speed and brevity of writing by using abbreviated symbols rather than full words, as a way of expressing her feelings after suffering a miscarriage. She is now looking for others who have experienced pregnancy loss to be involved in her project.
"This semester my core research question was 'How can we use art to process the complex emotions that experiences such as pregnancy loss and miscarriage bring?'," explained Ana. "I use shorthand because sometimes things are too painful to write in plain English, and I want to try my best to protect myself – and the viewer – from work that might be triggering or upsetting.
"I'd like to open the project up to others who have experienced pregnancy loss because I think my shorthand technique can be a powerful opportunity to discuss these subjects in a safe way."
Ana gained a First Class degree at Duncan of Jordanstone before moving into journalism and now works as a part-time communications officer. She learnt Teeline shorthand several years ago.
One of Ana's Masters Show pieces, entitled 'Disqualified From Motherhood', has the word 'disqualified' written in Teeline shorthand, behind the symbol of a positive pregnancy test. Another uses the line 'It was just a collection of cells, it happens'. All works in Ana's part of the MFA Art & Humanities show are for sale and she has created a complimentary zine with translations of all the shorthand used.
Ana continued, "I found myself saying 'Oh it's okay, it happens' to people after my miscarriage, which was at nine weeks. I said it so often I started to wonder if I really meant it, or if I was just trying to protect myself from the grief I was feeling. Making the work has allowed me to work through the feelings I have about losing that child and I hope other people will be able to engage with the work and with the project.
"I have provided an interactive space within the show for people to respond to the work and to share their own experiences of trauma and pregnancy loss, as well as wider issues of fertility and family. The room is covered in blackboard paint and there are chalk pens provided. If people don't feel comfortable writing directly on the walls I will have a small book that they can use, with the understanding that I will then add their comments to the space using shorthand."
The Masters Degree Show at Duncan of Jordanstone College of Art & Design runs from 16–25 August. More information is available at https://www.dundee.ac.uk/mastersshow/2019/.
Anyone interested in getting involved with Ana's project can email her at imissyoustill.project@gmail.com.
For media enquiries contact:
Grant Hill
Press Officer
University of Dundee
Nethergate, Dundee, DD1 4HN
Tel: +44 (0)1382 384768
Mobile: 07854 953277
Email: g.hill@dundee.ac.uk