Life's a beach in student's new documentary
Published On Wed 21 Aug 2019 by Jonathan Watson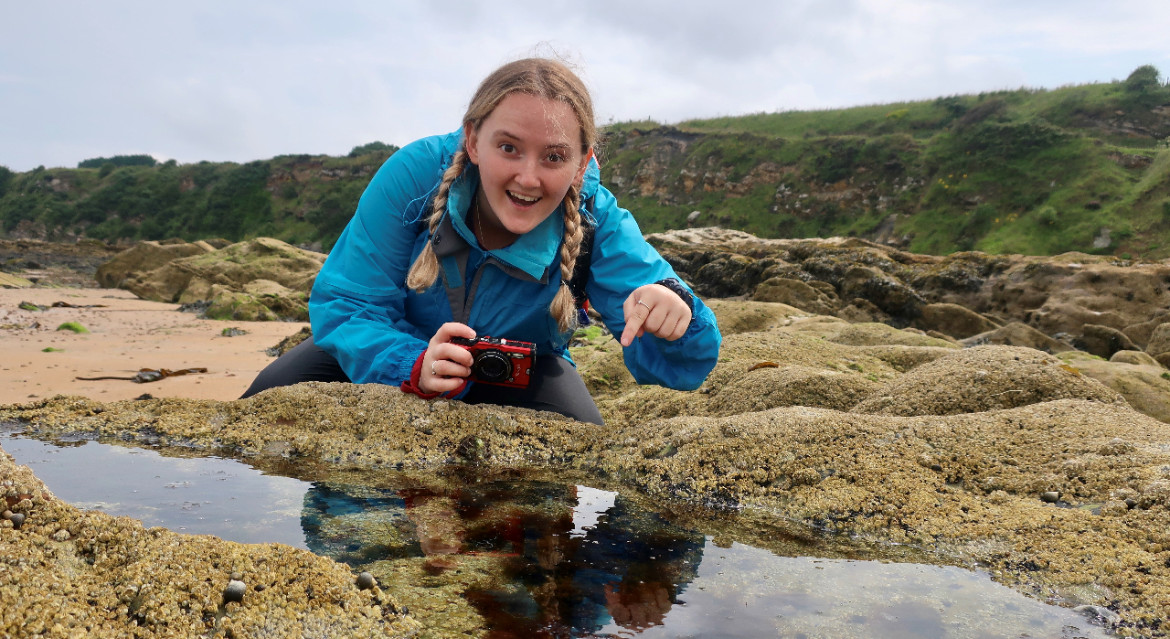 A University of Dundee student is making a splash in the world of social media after launching her own documentary series about Scotland's marine life.
Elizabeth Mills says that she wants to encourage more people to explore the wonders of the nation's waters with the launch of When the Tide Retreats, a series of self-produced short films on YouTube.
Under her alias of Marine Mumbles, the PhD Civil Engineering student has taken to her presenting role like a duck to water, delving beneath the waves of Aberdeenshire, East Lothian, Fife and Tayside to bring viewers examples of the animal and plant life that make Scotland their home.
With television viewers having been captivated by series such as David Attenborough's Blue Planet in recent years, Elizabeth says that she wants to make waves with the public by highlighting the treasure trove of marine life on their own coastline.
"Marine biology is not something that you can only view on a television screen," she said.
"You can go to any piece of coastline and get hands on experiences with the creatures and plants that live in the water. We are one of the few countries that is surrounded by rocky coastlines which cultivate so much life. Luckily for us, every day this underwater world is revealed when the tide retreatsso you don't need to learn to dive, you just need a pair of wellies."
Elizabeth's research at Dundee is focusing on the effects of concrete on biofouling – where marine life accumulates on manmade structures such as harbours. Have graduated with a degree in Marine Biology from Swansea University, she came to Dundee's renowned School of Science and Engineering to learn more about how human and marine life interacts.
Despite a hectic study schedule, she still finds time for filming and editing her aquatic adventures, as well as producing marine-themed scientific art. Elizabeth, originally from Kent, hopes that When the Tide Retreats will educate and inspire people from across the country to look out their waterproofs and explore their local coastline.
"If you are able to see first-hand what is in our oceans it becomes easier to understand and appreciate them," she added.
"My PhD allows me to do the thing I love the most, which is learn about the creatures on our coastlines, and I want to inspire others by sharing that with them. Rock pooling is not only interesting but also a really fun day out.
"The one thing I'm still waiting to find is an octopus. I'm hopeful as every time I go to the coast I find more amazing life, like lobsters or entire forests of kelp, but even a humble barnacle can be exciting to witness in its natural habitat."
Episodes of When the Tide Retreats will be uploaded regularly to Elizabeth's YouTube channel.
For media enquiries contact:
Jonathan Watson
Media Relations Officer
University of Dundee
Nethergate, Dundee, DD1 4HN
Tel: +44 (0)1382 381489
Email: j.s.watson@dundee.ac.uk