Winter Graduation to mark student success
Published On Mon 12 Nov 2018 by Grant Hill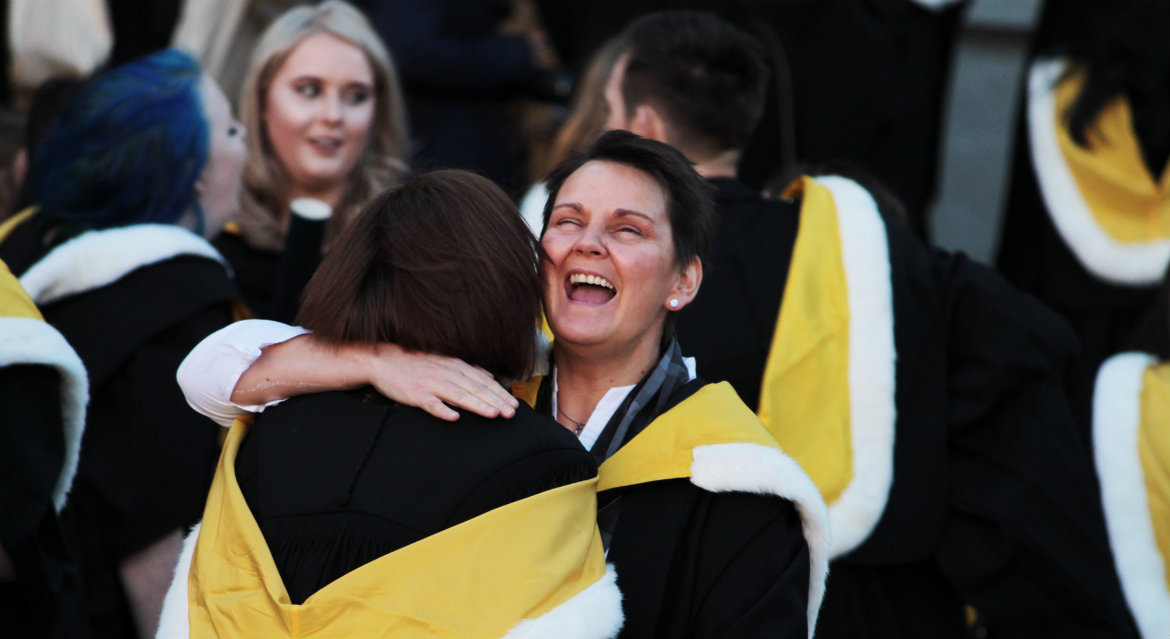 The University of Dundee will this week mark the achievements of well over 1000 undergraduate and postgraduate students when this year's Winter Graduation ceremonies take place at Caird Hall.
Graduands will be joined by family and friends to celebrate their academic achievements, while honorary degrees will be bestowed upon world-leading scientist Professor Bob Michell, Scottish Rugby Union Chief Medical Officer Dr James Robson and leading foreign correspondent Christina Lamb.
The winter celebrations are held to allow students whose courses finish after the traditional summer graduation to receive their awards as soon as possible after successfully completing their studies. Two ceremonies will be held on Thursday 15 November, with another taking place the following morning.
The Friday ceremony will be the first presided over by Professor Dame Jocelyn Bell Burnell, the University's newly installed Chancellor. It will also be the final Graduation ceremony for Professor Sir Pete Downes, who retires from his role as Principal and Vice-Chancellor at the end of the year.
"Whilst as always, these ceremonies will be joyous occasions for those graduating and their families and friends, it will be an emotional occasion for me personally and for my wife, Elizabeth," said Professor Downes.
"Graduation reminds all of those who work in the University why we are so committed to what we do. It is the culmination of our efforts to transform lives. I am also especially proud of this University's achievements in widening participation in higher education to students from disadvantaged backgrounds. Their transformation is perhaps the most profound of all.
"Graduation is a special day for all who will cross the stage. They will now go on to make their mark in their chosen fields, and I'm sure hearing about the achievements of our honorary graduates will inspire them as they embark upon their careers."
On the morning of Thursday 15 November, students from the Schools of Education and Social Work, Life Sciences and Science and Engineering will receive their awards from 10am. The afternoon ceremony will begin at 2.30pm and see graduands from the schools of Humanities and Social Sciences and Duncan of Jordanstone College of Art & Design, cross the stage.
The third ceremony, for students from the Schools of Nursing & Health Sciences, Dentistry, and Medicine, will take place at 10am on Friday. Honorary degrees will be bestowed on Professor Bob Michell at the Thursday morning ceremony, Dr James Robson that afternoon and Christina Lamb the following day.
Graduation Receptions will take place at Dundee University Student Association (DUSA) from 4–7pm on Thursday and from 3-6pm on Friday.
All the Graduation action can be followed on social media via #UoDGrad.
Notes to editors:
Honorary graduates:
Professor Bob Michell FRS is Emeritus Professor of Biochemistry and former Royal Society Research Professor at the University of Birmingham.
How cells respond to environmental signals, and alter their phenotype accordingly, is one of the central questions underlying contemporary research in cell biology and disease pathogenesis. In many circumstances the cellular response involves the turnover of inositol phospholipids at the cell membrane as one of the immediate signal transduction events. Professor Bob Michell is the person who, more than any other, established the field of receptor-mediated inositol lipid hydrolysis as a major clinically-important research area.
In the true mould of scientific pioneers, when he first proposed his hypothesis very few scientists agreed. Now thousands of scientists around the world work in this field.
He is a Fellow of the Royal Society.
Dr James Robson MBE is Chief Medical Officer for Scottish Rugby Union and has served as the team doctor for Scotland at six World Cups and for the British and Irish Lions on six tours.
James gained his degree in Medicine from Dundee in 1988. While he was a medical student he became involved with the local district side North and Midlands as their physiotherapist. He maintained his interest in sports medicine throughout 13 years working as a GP in Dundee.
He made his first trip with the Scottish national team to Canada in 1991 and served as team physio at the World Cup the same year. He has gone on to become one of the most respected medics working in the game and a strong advocate for player safety.
His contribution to sports medicine was recognised with an MBE in the 2018 New Year Honours list.
Christina Lamb OBE is one of Britain's leading foreign correspondents and a bestselling author.
Christina has reported from most of the world's hotspots starting with Afghanistan after an unexpected wedding invitation led her to Karachi in 1987 when she was just 22. She moved to Peshawar to cover the mujaheddin fighting the Soviet Union and within two years she had been named Young Journalist of the Year.
Since then she has won 14 major awards including five times being named Foreign Correspondent of the Year and Europe's top war reporting prize, the Prix Bayeux.
She has written eight books including the bestselling `The Africa House' and `I Am Malala' and is a patron of Afghan Connection and on the board of the Institute of War and Peace Reporting.
She was made an OBE by the Queen in 2013 and is an honorary fellow of University College, Oxford.
For media enquiries contact:
Grant Hill
Press Officer
University of Dundee
Nethergate, Dundee, DD1 4HN
Tel: +44 (0)1382 384768
Mobile: 07854 953277
Email: g.hill@dundee.ac.uk