V&A Dundee architect among honorary graduates
Published On Mon 4 Jun 2018 by Roddy Isles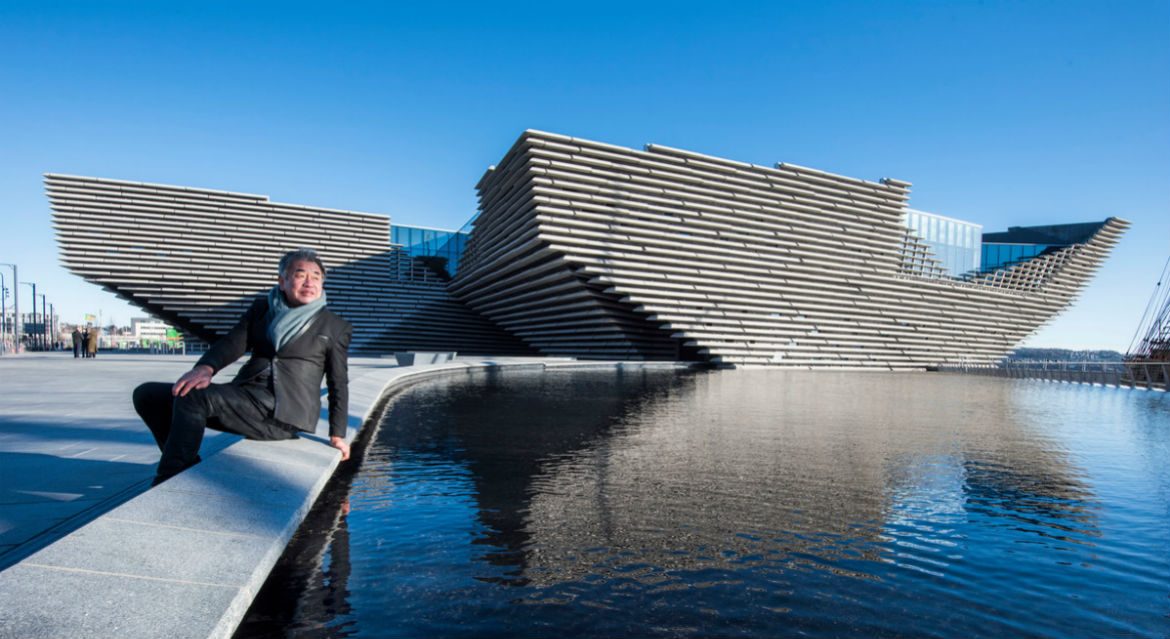 The University of Dundee will award honorary degrees to ten people – six of them alumni of the University – at summer Graduation in June.
Kengo Kuma, architect of V&A Dundee, Snow Patrol singer Gary Lightbody, and the University's former Chancellor Lord Naren Patel are among those who will be honoured at the ceremonies in the Caird Hall, where they will be joined by thousands of new graduates.
Professor Sir Pete Downes, Principal and Vice-Chancellor of the University, said, "Our honorary graduates are all inspirational figures who have made great impact in their fields, from founding charities and carrying out ground breaking research, to designing landmark buildings and reaching the highest levels of the legal world.
"I am particularly pleased that once again we are able to honour those who studied here at Dundee and have gone on to such great things. Our aim is to enable our graduates to make a difference in the world, and these people have all done that in an extraordinary fashion."
The full list of honorary graduates for the summer ceremonies is;
Martin Pistorius,a web designer, developer and author best known for his 2011 book Ghost Boy, in which he describes living with locked-in syndrome and being unable to move for more than 12 years. He has overcome adversity to become a passionate advocate and supporter of work in augmentative and assisted communication, including research at the University of Dundee.
Dr Zipporah Ali, a graduate of the University of Dundee and Executive Director of Kenya Hospices and Palliative Care Association. Her work has had a huge impact on the provision of palliative care in Kenya and East Africa.
Margaret Grant, founder of the Dundee-based charity The Brittle Bone Society, which celebrates its 50th year in 2018.
Kengo Kuma, the architect who has designed the building for V&A Dundee. Among his other projects is the National Stadium for the 2020 Tokyo Olympic Games.
Anuja Dhir,a graduate of the University of Dundee who last year became the first non-white judge at the Old Bailey.
Dr Sun Xiansheng, Secretary General of the International Energy Forum. He is a graduate of the University of Dundee, holding both an LLM and PhD from the Centre for Energy, Petroleum and Mineral Law and Policy (CEPMLP).
Dr Michel Goedert, a scientist at the MRC Laboratory of Molecular Biology in Cambridge. His work has helped establish the molecular basis of Alzheimer's and other neurogenerative diseases, and earned him the Brain Prize for 2018 from the Lundbeck Foundation, the most valuable award for brain research.
Gary Lightbody, who formed the band Snow Patrol while he was a student at the University of Dundee. The band has gone on to worldwide success, selling millions of albums and headlining festivals.
Dr Saleyha Ahsan, who graduated from the School of Medicine at Dundee in 2006 and is a practising A&E doctor, a former Captain in the Royal Army Medical Corps and a broadcaster, well known for `Trust Me I'm A Doctor' and other programmes.
Lord Naren Patel, an obstetrician and cross bench peer, and former Chancellor of the University of Dundee. He stepped down last year after eleven years in the position.
The Graduation ceremonies take place in the Caird Hall in Dundee from Wednesday 20 June to Friday 22 June.
(Kengo Kuma image copyright Alan Richardson)
For media enquiries contact:
Roddy Isles
Head of Corporate Communications
University of Dundee
Nethergate, Dundee, DD1 4HN
Tel: +44 (0)1382 384910
Mobile: 07800 581902
Email: r.isles@dundee.ac.uk