Trauma Teddy activity book to help children in distress
Published On Wed 21 Nov 2018 by Jonathan Watson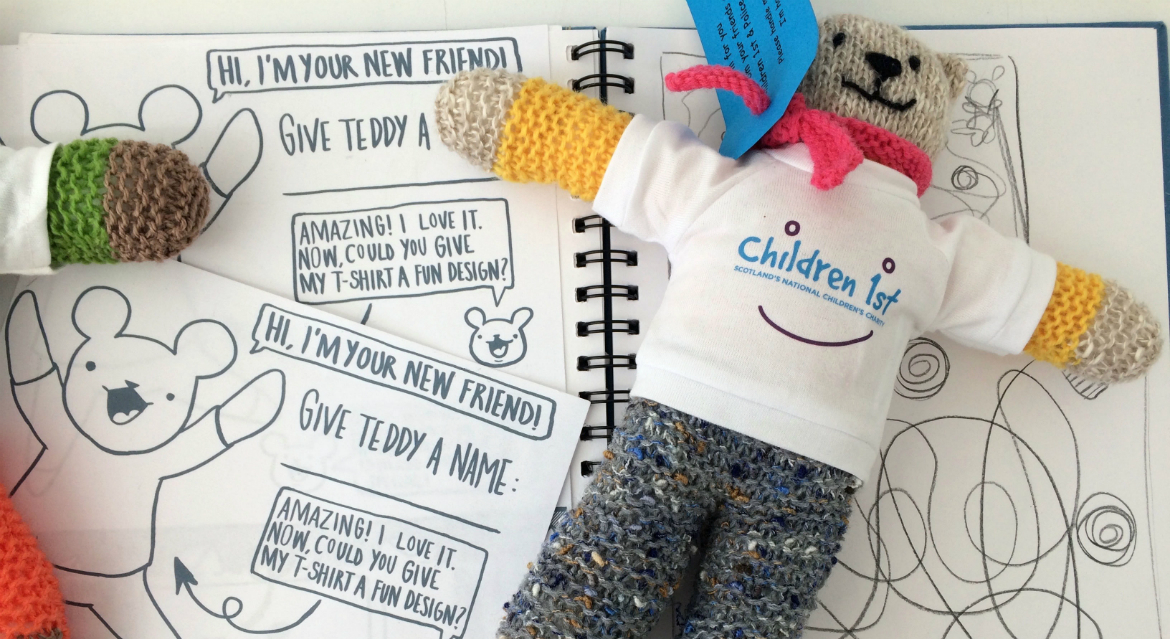 Students at the University of Dundee have teamed up with Police Scotland and a national charity to support children caught up in traumatic situations.
Illustrators from the University's Duncan of Jordanstone College of Art & Design (DJCAD) have created an activity book that will be distributed to youngsters caught in the midst of emergency incidents.
Working with Police Scotland and staff at Children 1st, Scotland's national children's charity, the book, which features puzzles, colouring in pictures and games, was developed entirely by DJCAD Illustration undergraduates and will be carried by emergency service personnel throughout Tayside.
They will be distributed alongside knitted teddy bears donated by members of the public, which are also given to children who find themselves caught up in traumatic events.
Natalie Russell, Illustration Lecturer, said that as well as supporting children in the local community, the project had pushed students to think about how their work can act as a form of therapy.
She said, "The students were really keen to participate in this project, not only as a means of helping children in the local area, but as a means of developing their creative skills. Working exclusively in black and white is not something that artists have to do very often, and working on a book that will have a real-world application is much more beneficial than a classroom-based project.
"Everyone is thrilled with the finished product and we just hope that it can play a small part in helping youngsters who may need some support in tough times."
The partnership with Police Scotland and Children 1st was developed after police officers approached DJCAD to assist with the project. The book has been developed to reflect the local area, with landmarks such as V&A Dundee and RRS Discovery joining iconic figures such as Desperate Dan within the pages, providing a sense of familiarity for children who may find themselves in unusual and potentially distressing situations.
PC Andrew Kerr from the Tayside Division of Police Scotland, said, "Working in partnership with Children 1st and the University of Dundee shows that community involvement and engagement is at the heart of everything we do. The activity books will provide the emergency services with a really meaningful tool to offer support and help build trusting relationships with children caught in traumatic circumstances, while also signposting families in need to Children 1st."
Jane Pengelly, Dundee Children and Families Services Manager from Children 1st, added, "This is a very special activity book, helping to distract and comfort children in times of difficulty and distress. We want to thank the illustrators for all their hard work and for thinking so carefully about what would best help a child to explore and express their feelings and to soothe their hurt.
"It has been fantastic to see how enthusiastically individuals, groups and communities from Dundee are using their skills to join Children 1st and the police to show children that they are cared about. We know that it can be very hard for parents to know how to support their children in times of distress, so as well as showing children how much they care, our partnership is raising awareness of Parentline as a source of further support for parents, carers and relatives across Scotland."
Parentline can be contacted by phone on 08000 28 22 33, by emailing parentlinescotland@children1st.org.uk or online at www.children1st.org.uk/parentline.
For media enquiries contact:
Jonathan Watson
Media Relations Officer
University of Dundee
Nethergate, Dundee, DD1 4HN
Tel: +44 (0)1382 381489
Email: j.s.watson@dundee.ac.uk