The Gaff to open at Zoology Museum
Published On Wed 6 Jun 2018 by Grant Hill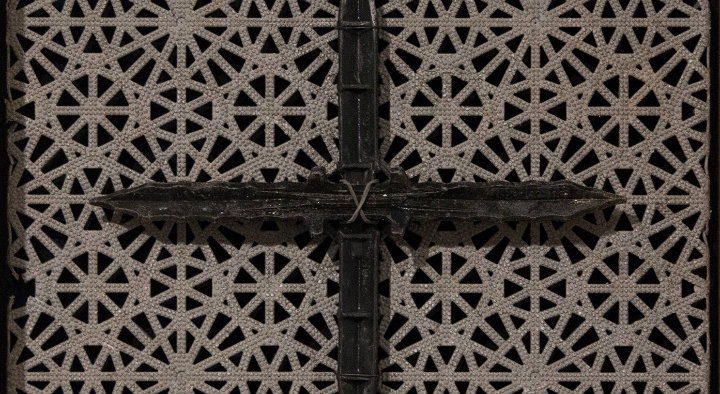 A new exhibition of work by Scottish artists David Blyth and Nick Gordon inspired by celebrated polymath D'Arcy Thompson will go on display at the museum that bears his name later this week.
The Gaff opens on Friday 8 June at the University of Dundee's D'Arcy Thompson Zoology Museum. The artists' playful response to the preserved specimens in Thompson's collection feature a range of sculptural works that explore ideas of material culture and the accepted codes of the museum experience.
Thompson was the first Professor of Biology at University College Dundee, now the University of Dundee, and also spent many years working at the University of St Andrews. His influence extended far beyond biology to many other fields of science, as well as art and architecture.
"Working alongside these significant and historic specimens has been a wonderful inspiration for our studio work," said David. "The museum has really helped Nick and myself to shape our ideas and thought processes as we prepared for this collaborative exhibition.
"It was a mutual interest in D'Arcy Thompson's book On Growth and Form that brought us together for this exhibition. By introducing new artworks into the historical collection to challenge the conventions of taxonomy and explore alternative connections and contexts, we hope to release new ideas from the zoological specimens within D'Arcy's collection."
David Blyth is based in Aberdeenshire and teaches at Gray's School of Art. His work involves the craft skills of taxidermy to draw upon narratives of Scottish folklore, shamanism and human-animal relations.
Nick Gordon is based in Orkney, where he works as a technician at Soulisquoy Printmakers in Stromness. His work uses mixed media collage to explore our relationship with the environment. His work is a contemporary reflection of the cognitive processes of collecting, arranging, displaying and analysing.
The exhibition will be open to the public from 2-4.30pm each Friday for the remainder of June. More information can be found at www.dundee.ac.uk/museum/zoology.
For media enquiries contact:
Grant Hill
Press Officer
University of Dundee
Nethergate, Dundee, DD1 4HN
Tel: +44 (0)1382 384768
Mobile: 07854 953277
Email: g.hill@dundee.ac.uk