Student Sean cycles Everest challenge on Dundee Law
Published On Mon 19 Nov 2018 by Dominic Younger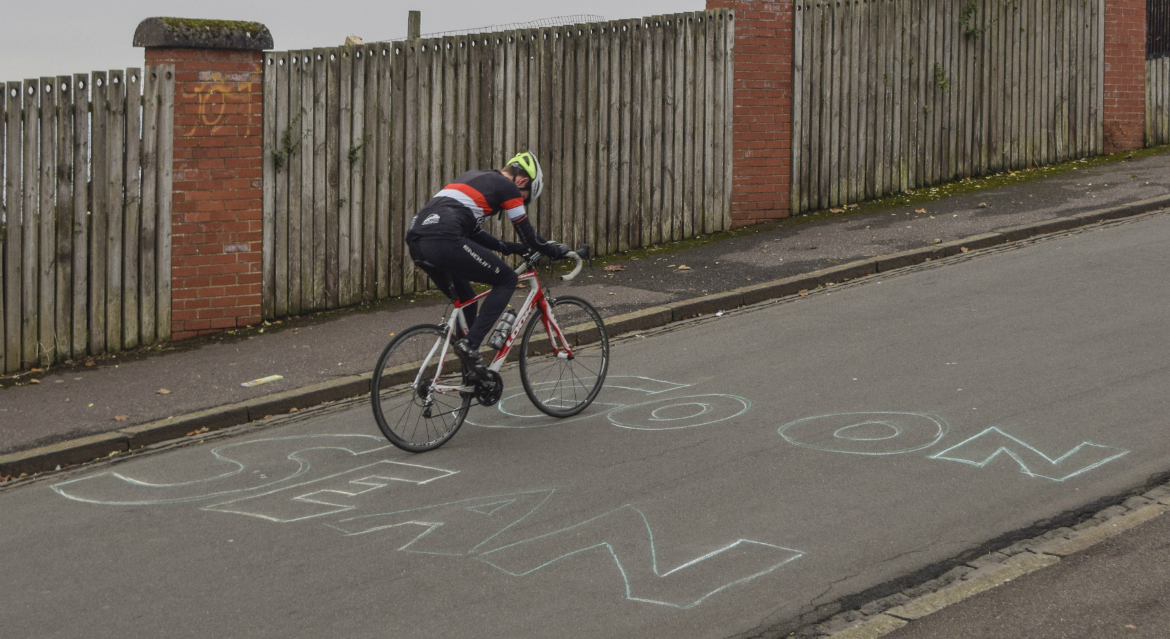 Image credit: Jacob Scoular

A University of Dundee student has cycled the height of Everest on Dundee Law for charity.
Sean Douglas, a third-year Physics student, climbed a total of 29,049 feet in 139 miles. The mammoth effort which included 150 laps of the Dundee Law circuit took Sean just under 19 hours to complete.
Sean's 'Everesting' attempt on Saturday 17 November saw him set off and finish in the dark.
When asked how it felt to complete the challenge, Sean said he has no intentions of cycling up the Law anytime soon but loved every minute.
"Finishing the climb was incredible, especially with all the support from the University cycling club DUMRCC, Dundee Thistle cycling club, my family and local fans of the sport including words of encouragement from Mark Beaumont our Rector.
"Coming up to the finish for the last time with the flag waving just made it all real. I would like to thank everyone for their support, donations and kind words - I could not have done it without all the amazing support."
Sean's 'Everesting' of the Law formed part of a larger fundraising drive by the Dundee University Cycling Club who raised more than £800 for Motor Neurone Disease Scotland and the Scottish Mountain Rescue.
Jacob Scoular, Club Captain, said, "Sean's challenge was an absolutely fantastic effort. We have completely smashed the initial £200 fundraising target. All the proceeds that we raise will go directly to MND Scotland and Scottish Mountain Rescue – both charities are very important to our club.
"For Sean, it is time to rest, with no more laps of the Law for a long time and I reckon he'll never want to hear the words "Dundee Law" ever again. So on behalf of the club, Sean and the charities - thank you!"
Donations can still be made at https://uod.ac.uk/2Fdm4VX
For media enquiries contact:
Dominic Glasgow
Media Relations Officer
University of Dundee
Nethergate, Dundee, DD1 4HN
Tel: +44 (0)1382 385131
Email: d.w.glasgow@dundee.ac.uk