Student catalogues treasure trove of comics
Published On Fri 12 Oct 2018 by Dominic Younger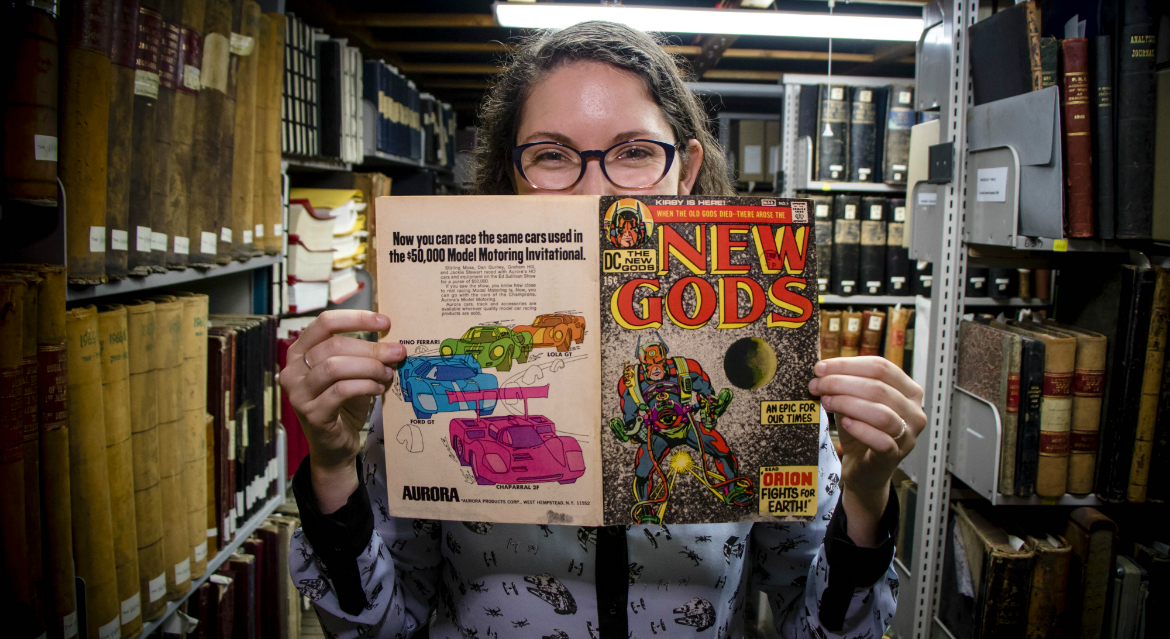 An American student was delighted to find rare comics, some dating back to the 1800s, amongst thousands of comics she catalogued at the University of Dundee.
Hailey Austin says she has found comic gems including Punch magazine, first issues of rare DC and Marvel comics, as well as drafts and proofs of early DC Thomson comics amongst the materials donated to the University's Archives.
Hailey, a 24-year-old PhD student from Colorado, said that the mammoth task of cataloguing the majority of the collections took over three months but she would happily do it all over again because of the value these comics hold.
"The university houses a huge collection," said Hailey. "They are not only historically significant but invaluable for students and enthusiasts, especially those studying comics here in Dundee.
"We have Punch comics from 1895 donated by the late Stephanie Wolfe Murray - the pioneering female publisher who founded Canongate. These sit alongside thousands of DC comics donated to the University by famous Scottish comics writer Grant Morrison. We also have a sizable amount of comics scripts, a unique resource.
Not content with creating the detailed online catalogue for the huge collection, Hailey also led the creation of Chronicle: The Archive and Museum Anthology – a 40-page comic telling 13 different stories behind the donations and inspired by the comics collections in the archives as well as the large collection of original comics art in the University's Museum Services.
"Naturally being a comics PhD student, my first thought was to create a free comic that would highlight exactly what the University's Archives and Museum Services have to offer," she added.
"There are 19 contributors, including students and even someone who donated into the collection. Calum Laird was an editor at DC Thomson and he donated his Commando scripts. These are amazingly valuable to comics students as they are integral to the creative process and are tough to get your hands on. His daughter, Catriona, then created the art to tell the story of the life of a Commando script.
"I'd like to give special thanks to Caroline Brown, Jan Merchant, Sharon Kelly, Matthew Jarron, Damon Herd, Chris Murray and Phil Vaughan for all the help with this project."
Chronicle: The Archive and Museum Anthology will be launched to the public at 5pm on Thursday 18 October at the Dundee Comics Creative Space.
The artists and writers involved in the comic include Hailey Austin, Elliot Balson, Zu Dominiak, Katriona Gillon, Matthew Gow, Eve Greenwood, Olivia Hicks, Rebecca Horner, Calum Laird, Catriona Laird, Norrie Millar, Nicole Munogee, Chris Murray, Golnar Nabizadeh, David Robertson, Megan Sinclair, Faye Stacey, Letty Wilson, and Adina Ziebart.
For media enquiries contact:
Dominic Glasgow
Media Relations Officer
University of Dundee
Nethergate, Dundee, DD1 4HN
Tel: +44 (0)1382 385131
Email: d.w.glasgow@dundee.ac.uk