Refugee dentist pledges to help fix Syria after graduation
Published On Fri 16 Nov 2018 by Dominic Younger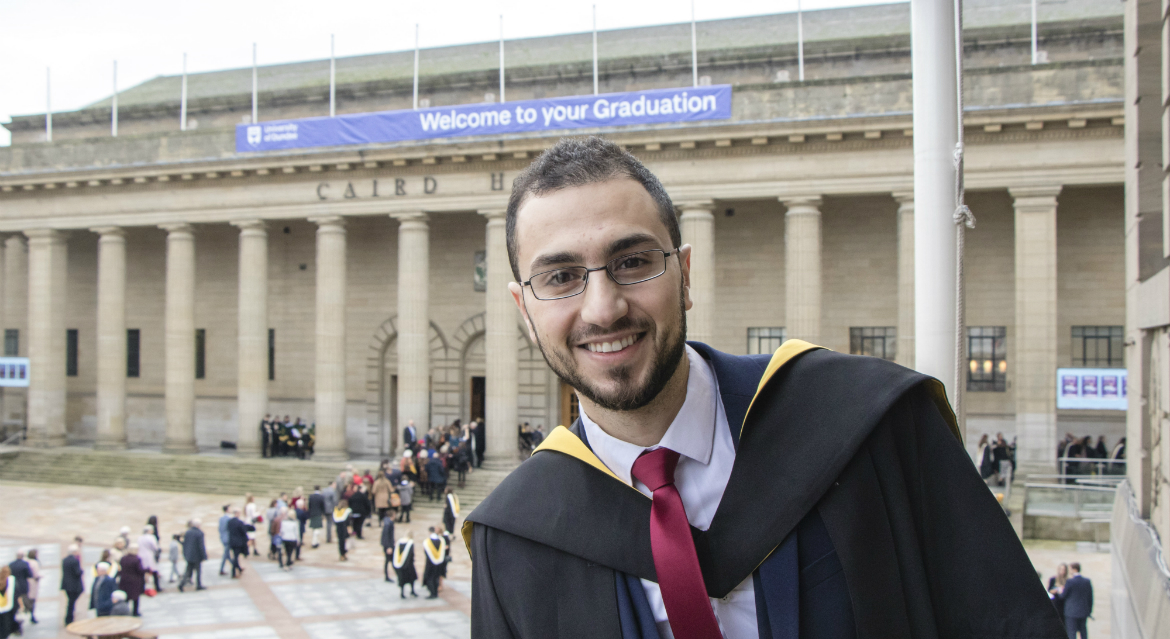 A Syrian refugee who had to flee his home country because of devastating war will graduate with distinction this week from the University of Dundee.
Rawad Qaq endured a perilous 22-day journey, across the Mediterranean by boat and overland to Germany, before then coming to Dundee on a Humanitarian Scholarship to study a Masters in Forensic Dentistry.
This week's graduation will be even sweeter for the 27 year-old as he will collect his degree knowing he has a fully-funded scholarship to complete his PhD at the University – a postdoctoral program which he hopes will help him introduce Forensic Dentistry and Facial Reconstruction in Syria to help identify the victims of the war which forced him to leave three years ago.
Rawad said that the Humanitarian Scholarship he was awarded just over a year ago while living in Germany facing a bleak future completely transformed his life.
"You cannot even begin to imagine what it means to graduate with this degree," Rawad said.
"The education here has been fantastic, it has had a huge impact on me. Every topic I studied in my Masters was related in some way to Syria, whether it was the study of mass graves, identification of people by their teeth, health records or data problems.
"I couldn't help during the war five years ago but now because of Studying in Scotland, I will be able to pay back the support I have received here by helping identify the victims of war, not only in Syria but in other countries also ravaged by war like Iraq or Yemen."
Professor Mark Hector, Dean of the School of Dentistry, said that Rawad's academic brilliance was one of the reasons he had been granted a highly competitive three-year Doctorate grant from the Global Challenges Research Fund (GCRF).
Professor Hector said, "Rawad is an exemplary student, highly motivated, conscientious, honest, ethical and altruistic. Judging from the standard of work he has produced for his Masters in the School of Dentistry I expect that he has the will and ability to become one of the leading experts in Forensic Dentistry for the identification of the deceased in Europe, if not the world.
"Rawad's research proposal addresses the identification of human remains in a country where ante-mortem records are unlikely to be available or have been completely destroyed by war. The outcome of his research would support the efforts to ensure human rights for the victims of the Syrian conflict and to promote justice and peace in Syria. As such we are tremendously proud of his work and what he aims to achieve."
Rawad currently works a medical interpreter for the NHS, translating Arabic to English for patients in Tayside and Fife. He hopes that by continuing his studies in Dundee he will achieve one of his biggest dreams of returning to Syria and help identify the victims of war.
More than 1000 undergraduate and postgraduate students will receive their degrees, diplomas and other qualifications at the University's Winter Graduation ceremonies on Thursday 15 and Friday 16 November.
For media enquiries contact:
Dominic Glasgow
Media Relations Officer
University of Dundee
Nethergate, Dundee, DD1 4HN
Tel: +44 (0)1382 385131
Email: d.w.glasgow@dundee.ac.uk