ESA recognition for Dundee technology
Published On Tue 8 May 2018 by Grant Hill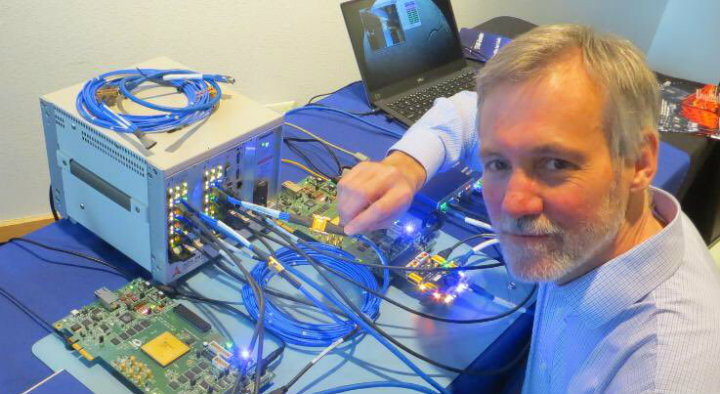 The European Space Agency (ESA) has showcased the importance of technology developed at the University of Dundee to aid the planetary landing of spacecraft.
Planet and Asteroid Natural Scene Generation Utility (PANGU) is a powerful set of tools that model the surfaces of planetary bodies such as Mars, the Moon, Mercury and asteroids using real and synthetic data.
Developed by the University's Space Technology Centre, PANGU is currently being used by spacecraft engineers around the world, including the team working on ExoMars rover, which is scheduled to touch down on the red planet in 2020.
The ESA has uploaded a presentation on PANGU given by the Dundee team at the space agency's headquarters in France last year to an area of their website dedicated to promoting the most successful and interesting activities within their development programmes.
Physical mock-ups of planetary and asteroid surfaces often prove inadequate testing grounds for landers and rovers which use vision-based navigation systems. This means that high fidelity, real-time simulation of the kind facilitated by PANGU is necessary for teams looking to validate their spacecraft.
"The main objective of PANGU is to support future ESA planetary lander missions," said Professor Steve Parkes, Chair of Spacecraft Electronic Systems at the University. "The latest version of the software enhances capabilities and performance, with improved realism and real-time capabilities.
"The latest version we have developed – PANGU-4 – is capable of supporting the design of lander and rover vision-based navigation systems through all stages of development. This means that this tool is a vital part of the process from conceptual studies right through to hardware integration and testing support.
"We are delighted that the ESA has chosen to highlight PANGU and the work we do here to support the space industry across the world and beyond."
Professor Parkes was also the founder of STAR-Dundee, a University spin-out company that designs electronic components and test equipment for spacecraft. The firm's success means that technology originating in Dundee is now being used across the world on more than one hundred spacecraft which are monitoring the Earth, exploring nearby planets and asteroids, mapping our galaxy and sensing the further flung parts of our solar system.
The ESA profile of PANGU, including a video of the Dundee team's presentation which shows the software in action, can be found at https://www.esa.int/Our_Activities/Space_Engineering_Technology/Shaping_the_Future/Planet_and_Asteroid_Natural_Scene_Generation_Utility_PANGU_Tool_Enhancement
For media enquiries contact:
Grant Hill
Press Officer
University of Dundee
Nethergate, Dundee, DD1 4HN
Tel: +44 (0)1382 384768
Mobile: 07854 953277
Email: g.hill@dundee.ac.uk