Dundee students advocate for persecuted academics around the world
Published On Tue 14 Aug 2018 by Grant Hill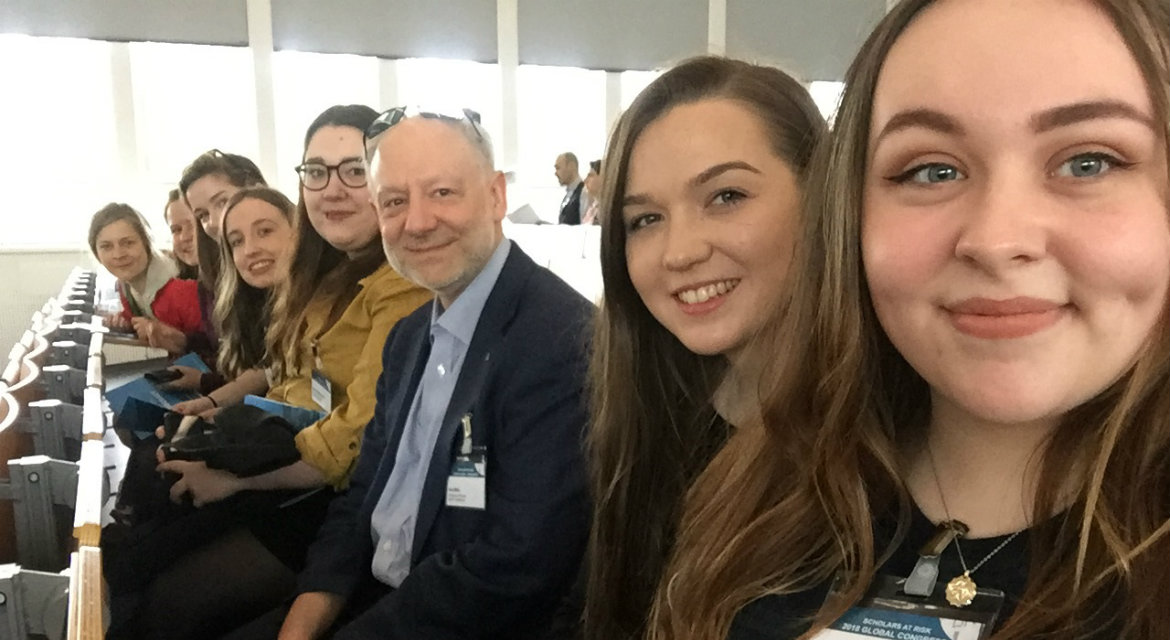 A group of Politics students at the University of Dundee have been praised for their work in advocating for the protection of academics around the world who have been the victims of violence and discrimination.
Thirty students volunteered their time in the spring to support the work of Scholars at Risk, an NGO that protects threatened scholars and raises awareness about attacks on the international higher education community. This work was conducted under the guidance of Dr Edzia Carvalho, Lecturer in Politics at the University.
The students were trained in the process and politics of advocacy as part of human rights modules taught at Honours level in Politics. The students chose a multitude of countries that have seen an increase in persecution of academics and students in recent years but focused their efforts on China, Hong Kong, Iran, Kenya, Thailand and Venezuela.
Clare Robinson, Advocacy Director for Scholars at Risk, said, "While the number of attacks on higher education communities, and the number of scholars imprisoned worldwide, is overwhelming, the actions of the Dundee students make a significant difference. They remind the world of these scholars' plight. They seek action from global leaders. And most importantly they remind the scholars and their families that they are not forgotten."
One group of students monitored violations against academics, and students reported on these violations to Scholars at Risk as part of the latter's Academic Freedom Monitor project. These reports were published on the project website and were an invaluable contribution to the NGO's efforts to highlight violations of academic freedom and related human rights of scholars, students, and higher education communities around the world.
"Dundee's students have been a crucial part of Scholars at Risk's monitoring work this year, and helped illuminate our understanding of a complex, challenging subject in ways that required deep analysis, solid communication skills, and a clear commitment to core human rights values," said SAR Senior Advocacy Officer, Jesse Levine.
The other group of students designed and ran advocacy campaigns for some of these persecuted scholars, all of whom are currently imprisoned – Dr Ilham Tohti, a professor of economics from China, Hamid Babaei, a PhD student from Iran, and Mr Pai Boonpattaraksa, a former law student from Thailand. The campaigns were designed to raise awareness among the scholarly community in Dundee of the plight of these individuals, who are currently serving sentences between six years to life, and to express solidarity with the scholars and their families.
As a result of their participation in these modules, the students were invited to attend an international conference on 'The university and the future of democracy' in Berlin, organised by Scholars at Risk, the Freie Universitaet Berlin, and the Alexander van Humboldt Foundation in Germany.
Under the guidance of Professor Kurt Mills, Professor of International Relations and Human Rights at Dundee, the students met with other student leaders and exchanged best practices on conducting advocacy campaigns.
Scholars at Risk has reported on hundreds of attacks on higher education communities, including wrongful imprisonment of scholars and students like those for whom the Dundee students advocated.
For media enquiries contact:
Grant Hill
Press Officer
University of Dundee
Nethergate, Dundee, DD1 4HN
Tel: +44 (0)1382 384768
Mobile: 07854 953277
Email: g.hill@dundee.ac.uk