Dundee and NUS partner for new joint degree programme
Published On Mon 7 May 2018 by Grant Hill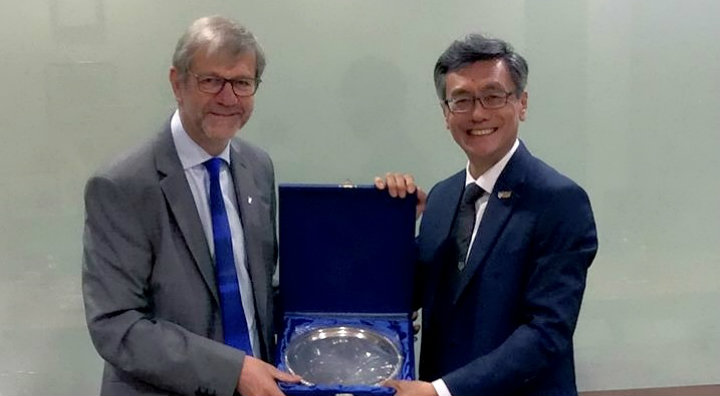 The University of Dundee and the National University of Singapore (NUS) have established a new partnership which will see students share their study time between Scotland and Singapore and earn a degree from both institutions.
NUS and Dundee are both globally prominent in the field of life sciences and offer top-quality teaching and excellent student experience. The new Bachelor of Science degree programme jointly offered by the two universities combines these qualities in a package which allows students to experience life and study in both the UK and Asia.
The new four-year programme was formally launched in the company of the British High Commissioner in Singapore His Excellency Scott Wightman.
The partnership builds on years of collaboration and student exchanges between the two universities.
Professor Sir Pete Downes, Principal and Vice-Chancellor of the University of Dundee, said, "This is a prestigious partnership which is established on a shared commitment to research and innovation led teaching excellence both here in Dundee and in Singapore.
"Our goal is always to bring the best of the world to Dundee, and to take the best of Dundee to the world. Students from Dundee will have the opportunity to work with leading scientists in Singapore with expertise which compliments that in Dundee."
NUS President Professor Tan Eng Chye said, "NUS has had a longstanding student exchange collaboration with the University of Dundee since 2011. This new joint degree programme is a natural and significant extension of our friendship with Dundee.
"This unique programme has been carefully designed to equip students with a strong foundation in life sciences, while providing them with opportunities to acquire industry-relevant knowledge and skills in drug design and discovery. The aim is to leverage NUS' and Dundee's world-class expertise in life sciences to produce a pipeline of talent for the pharmaceutical sectors in Singapore, the UK and the world."
The partnership will see 20 students moving between Scotland and Singapore each year. Half will start their degrees in Scotland and move to Singapore for most of the last two years of the four-year programme, with those beginning at NUS spending the latter stages at Dundee.
This first-of-its-kind joint Honours programme enables NUS Life Sciences students to complete a full-year research project at Dundee in drug discovery and design. These students will also gain hands-on training in drug optimisation and design through Dundee's partnerships with leading pharmaceutical and biotechnology companies in the fight against diseases.
While they are at NUS, the students coming from Dundee will cover genetic medicine, neurobiology or physiology and ageing.
A leading global university centred in Asia, the National University of Singapore is Singapore's flagship university, offering a global approach to education and research with a focus on Asian perspectives and expertise.
The University of Dundee earned the highest possible Gold Award in this year's Teaching Excellence Framework and was the top rated university in the UK for biological sciences in the most recent Research Excellence Framework.
To find out more about the course, please visit https://www.dundee.ac.uk/study/ug/biological-biomedical-singapore/.
For media enquiries contact:
Grant Hill
Press Officer
University of Dundee
Nethergate, Dundee, DD1 4HN
Tel: +44 (0)1382 384768
Mobile: 07854 953277
Email: g.hill@dundee.ac.uk