Birds of a feather sew together
Published On Fri 10 Aug 2018 by Dominic Younger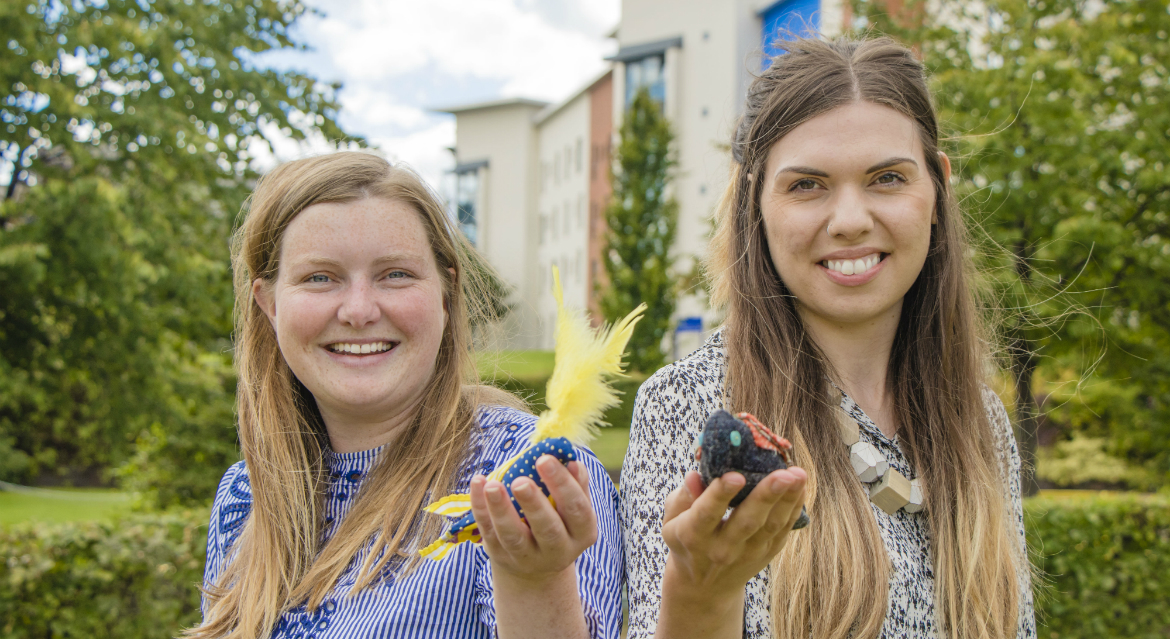 The potential of sewing to improve the fabric of society is being studied by two University of Dundee postgraduate students.
Textile designers Sara Nevay and Lucy Robertson, PhD students at the University's Duncan of Jordanstone College of Art & Design, are inviting people to stitch together textile birds in their upcoming workshop, 'Birds of a Feather Sew Together' as part of their research into how crafting can impact wellbeing and social connectedness.
With socialising having been identified as one of the five key drivers in positively contributing towards a person's mental health, Sara said, "Loneliness is a problem that can have a significant impact on somebody's mental health and wellbeing.
"Group crafting offers great social opportunity, and the use of electronic textiles – or e-textiles, where fabrics are combined with digital components like power, light, sounds and small computers – is also allowing us to find new ways to connect with one another.
"We previously conducted a project to see what effect working with these advanced materials to handcraft personal e-textile objects had on a person's wellbeing, but now we want to do the same with traditional textiles."
Participants will be asked to sew a textile bird using a template and materials provided by both Sara and Lucy, filling in a questionnaire before and after the experience to gauge the crafter's feelings. Birds were chosen due to their social nature and link to the outdoors.
The findings will then be used to feed into the pair's PhD projects, with Sara examining how e-textiles can help support older adults with experience of loneliness, and Lucy looking at sonic textiles and how they can help those living with dementia and their families.
Lucy added, "Using conductive fabrics and threads instead of switches and wires is akin to creating a soft electrical circuit, so we're keen to find out whether people get pleasure from simply crafting, or whether learning a new skill enhances that experience.
"Personal wellbeing is a huge issue within our society, so by finding small ways in which we can prevent loneliness or assist people with health problems could have significant benefits for everybody."
Sessions will take place in the University's Crawford Building between 10am and 12pm and from 2pm to 4pm on Tuesday 21 August.
Participants must be over the age of 16 and while suitable for beginners, basic hand or machine sewing skills are required. Priced at £5, materials will be provided and spaces can be booked online.
For media enquiries contact:
Dominic Glasgow
Media Relations Officer
University of Dundee
Nethergate, Dundee, DD1 4HN
Tel: +44 (0)1382 385131
Email: d.w.glasgow@dundee.ac.uk