"Accidental" career choice lands Gary in A&E
Published On Fri 16 Nov 2018 by Jonathan Watson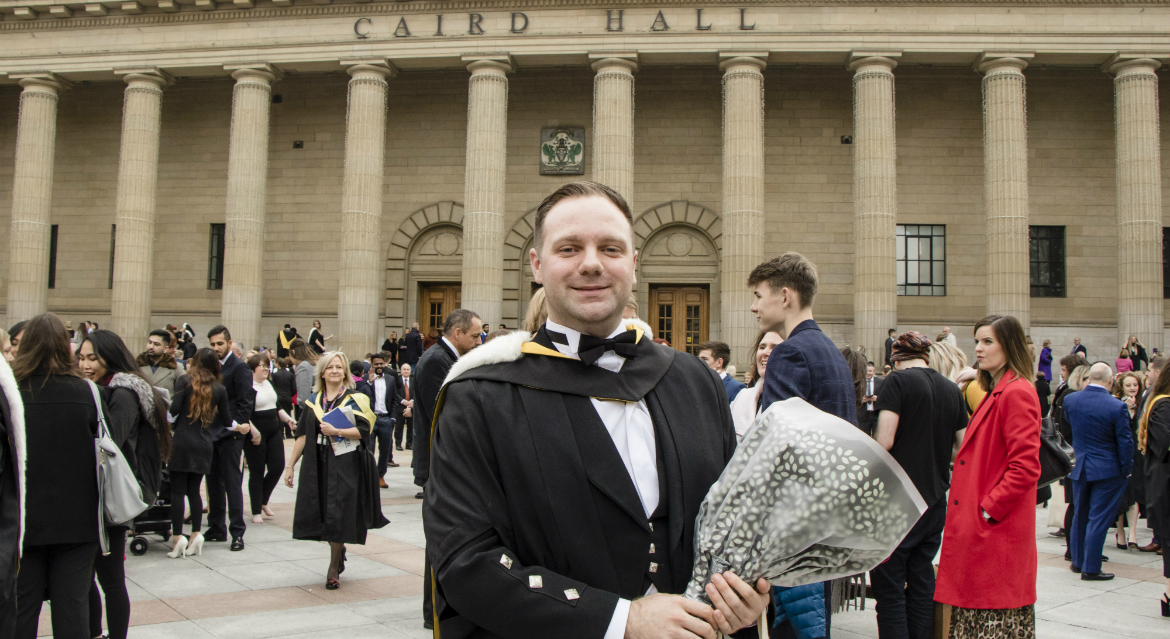 For most a trip to hospital is never the result of careful planning, but one University of Dundee student has admitted that his new career as a nurse came about by accident.
Gary Jordan, from Dundee, who will graduate at a ceremony at the city's Caird Hall on Friday, has already started his dream job within the Accident and Emergency department of Tayside's biggest hospital.
The 30-year-old, who will receive a Bachelor of Science Degree in Adult Nursing with a Distinction, has already joined the established emergency care team just in time for the East of Scotland Major Trauma Centre opening at Ninewells Hospital.
A specialist role he didn't think would interest him at the start of his course, Gary now describes the chance to work in the department as a dream opportunity.
"I fell into nursing by accident - a happy accident," he said.
"I had studied law and then maths with psychology beforehand and did well in both, but never really felt like either courses were for me. But after doing some volunteer work with The Samaritans, helping people quickly developed into a passion and one I realised I wanted to turn in to a career.
"I had finished my placement within A&E and I knew it was where I wanted to work. I had been on a high from that learning experience when I applied but I never thought I would be fortunate enough to get a job there. The feeling was incredible when I found out I had got the position. It is everything that I've worked for."
Having completed an HNC in Care and Administrative Practice at college, Gary was able to join his Adult Nursing course at Dundee at second year level in 2016. Throughout his studies it became clear that Gary had a passion for his subject, becoming Student President for the School of Nursing and Health Sciences, being shortlisted for a Scottish Herald Higher Education award in the "outstanding contribution from a student" category, while receiving the University's Sir James Black Prize for research and scholarship.
Gary also helped to front the University's #MenDoCare campaign, aimed at increasing the number of men in the nursing profession.
"If you had told me ten years ago that I would be a nurse one day then I would never have believed you," Gary continued. "It's a line of work that men are not encouraged in to, but looking back I can see that even at high school I had traits that will now help me in my career.
"At the moment only 8% of nurses are male, but I'm keen to act as a role model to encourage more men into the profession. It's hugely rewarding and a job that I enjoy coming to every day. Yes it can be challenging, but that is part of the pleasure, and to go home at night knowing you have helped to make a difference is incredibly important to me."
"Nursing is the sort of job where you will be learning for life, but the course really gave me a good grounding for what will be coming my way in the future. Every day was so challenging and different. It was an intense process going through the different phases of study but the course really helped me learn more about myself. It gave me a lot of confidence and helped me utilise my personality as part of my job."
For media enquiries contact:
Jonathan Watson
Media Relations Officer
University of Dundee
Nethergate, Dundee, DD1 4HN
Tel: +44 (0)1382 381489
Email: j.s.watson@dundee.ac.uk