`Wishing tree' returns to Dundee this Christmas
Published On Wed 8 Nov 2017 by Cara Longmuir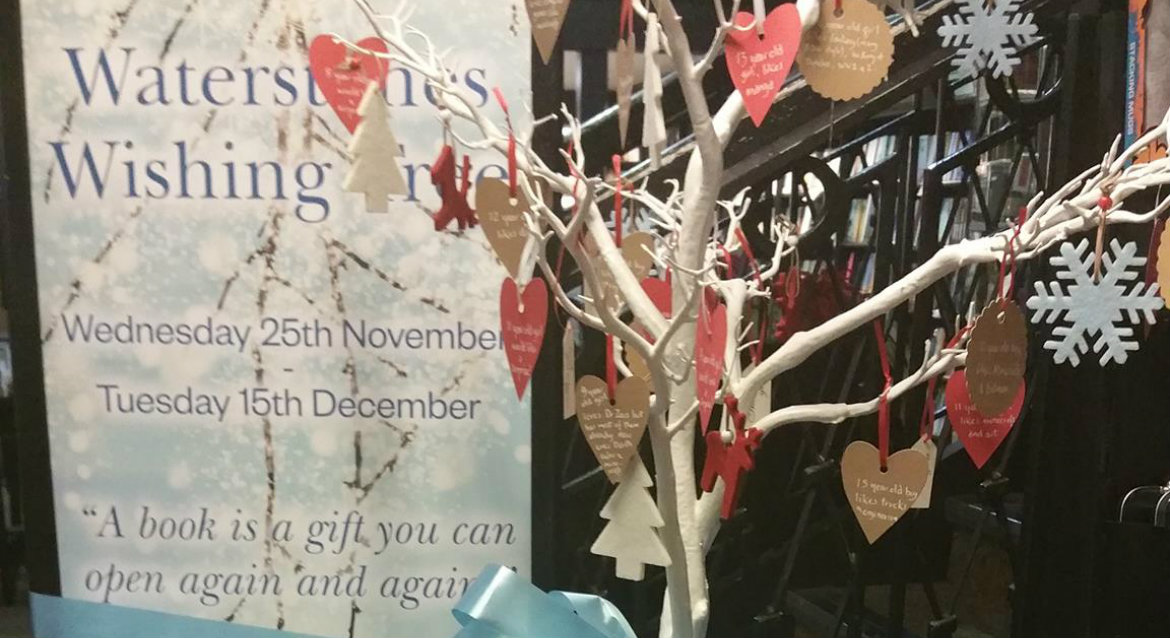 Christmas shoppers in Dundee will be able to help provide the gift of reading to young carers in the city with the return of the `Waterstone's Wishing Tree'.
This is a collaboration between the retailer, Literary Dundee, Leisure and Culture Dundee and Dundee City Council. It has been running since 2014 and is a special way for shoppers to gift a book to a young person in the city who has a caring role or who is affected emotionally by a family member's long-term illness, disability, mental health or addiction problems.
Peggy Hughes, Director of Literary Dundee said, "A book is a gift you can open again and again, and we're always astounded by the generosity of Dundee shoppers and the volume of books they gift Dundee Young Carers each year.
"We're delighted to be unveiling The Wishing Tree for the fourth year in a row to encourage shoppers to give the gift of reading to Dundee Young Carers this Christmas."
Gift tags on the tree will correspond to the interests of a young carer and all shoppers need to do is select a tag, buy a book and leave it with the staff at Waterstones to be wrapped and delivered for Christmas. Staff will be on hand to guide purchases until Sunday 17 December.
This year's tree will be unveiled at Waterstones in Commercial Street at 5pm on Wednesday 15 November by Broughty Ferry-based children's writer Michelle Sloan. Michelle's book, 'The Fourth Bonniest Baby in Dundee', illustrated by Kasia Matyjaszek, is shortlisted for The Bookbug Picture Book Prize 2018. The store and café will stay open for late night shopping and festive nibbles will be served.
Sarah Clark, Team Manager of Carers Support Services at Dundee Carers Centre said "A lot of the young people don't have many books so this is a welcome addition. 'The Wishing Tree' helps us to encourage reading across the whole family, and we are really grateful for their support."
Elaine Hallyburton, Senior Library and Information Officer for Dundee Libraries Service, said, "On top of school work Young Carers have the added responsibility of looking after someone in their family. Reading for enjoyment, even if it's just 10 minutes a day, offers a wee bit respite in a busy life. The gift of a book is a lovely way to say thank you for all their hard work."
The Young Carers Project supports those aged between 8 and 15 who provide a caring role for a family member. The service currently supports around 140 young carers. The Upbeet Project supports those aged 16 who also provide care for a family member or friend, and currently supports around 50 young adult carers. In addition many young adult carers are looking after their own children.
The care role can be provided for a variety of reasons including ill health, disability, mental health or through drug and alcohol use. Support is offered through one-to-ones and group work and aims to enable young carers and young adult carers to be able to cope with their caring responsibilities by providing emotional support, access to other supports including signposting, welfare rights and importantly peer support.
Literary Dundee is a University of Dundee-led initiative to promote interest in literature and its team work closely with members of the local community to enhance rates of reading and encourage more people, young and old, to discover or rediscover the joy of books.
For media enquiries contact:
Cara Longmuir
Media Relations Officer
University of Dundee
Nethergate, Dundee, DD1 4HN
Tel: +44 (0)1382 385243
Email: c.z.longmuir@dundee.ac.uk