University to honour leading figures at Winter Graduation
Published On Tue 7 Nov 2017 by Grant Hill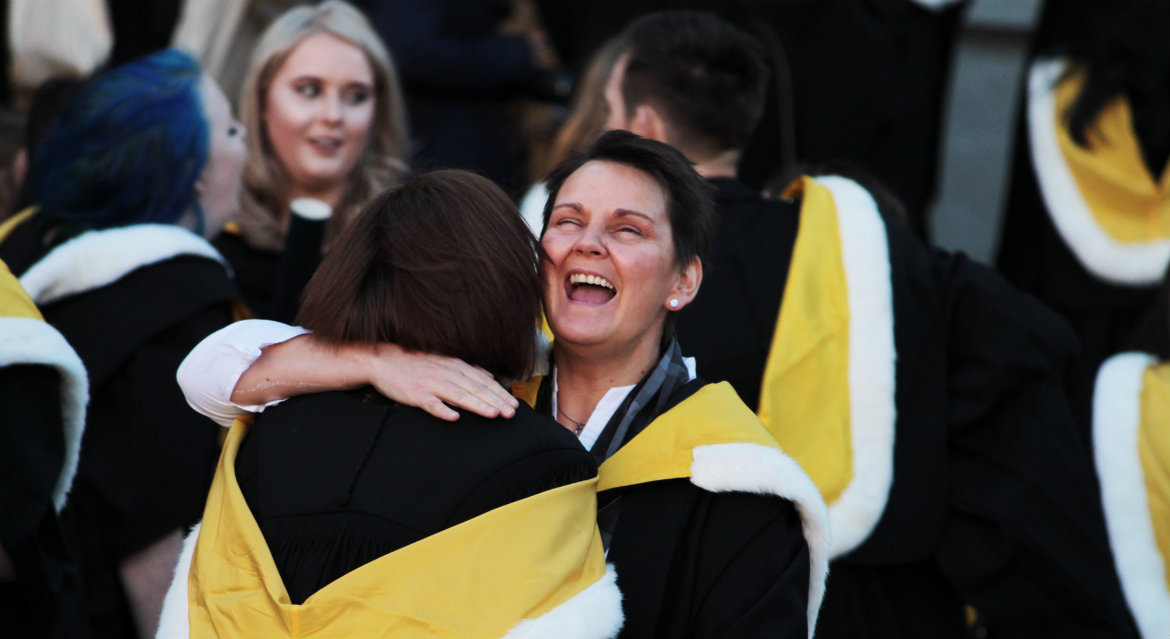 The University of Dundee will confer honorary degrees on three outstanding individuals at its Winter Graduation this month.
The honorary degrees will be awarded to Dame Jocelyn Bell Burnell, Dr Frederik Paulsen and Helen Jones.
Dame Jocelyn Bell Burnell is an astrophysicist, best known for her discovery of pulsars — rotating neutron stars that appear to 'pulse' since the beam of light they emit can only be seen when it faces the Earth. Her observation, made together with her supervisor, Antony Hewish, is considered to be one of the greatest astronomical discoveries of the twentieth century.
She has been a role model and champion for young students and particularly for women in science. She is the first female President of the Royal Society of Edinburgh.
Dr Frederik Paulsen is an internationally renowned businessman, philanthropist and explorer. His interests in exploration and conservation have seen him engage with the University's Centre for Remote Environments and with the South Georgia Heritage Trust, providing support for major environmental projects on South Georgia.
This has included the world's largest rodent eradication operation, which is reversing two centuries of devastation caused by rats that threatened the globally important seabird sanctuary of South Georgia, a British Overseas Territory in the South Atlantic.
His personal adventures have seen him become the first human to tour all eight of the Earth's poles, including a trip in a bathyscape 14,000 feet to the floor of the Arctic Ocean to touch the "true" North Pole. He was awarded an OBE by Her Majesty The Queen last year.
Helen Jones is Chief Executive Officer of Leeds GATE (Gypsy and Traveller Exchange), an organisation that has worked for 15 years to improve the quality of life for people from one of the most excluded ethnic minorities in the UK with significantly poorer life chances, health and educational outcomes.
She has worked closely with the School of Nursing and Health Sciences at the University on a major study examining how community engagement can enhance trusts between Gypsy and Traveller communities and health services.
"Our honorary graduates have all championed causes and made exceptional contributions, often beyond their primary vocation," said Professor Sir Pete Downes, Principal and Vice-Chancellor of the University.
"They have inspired and supported work the University has done that has had significant impact on society, from major environmental projects to addressing inequalities. In choosing our honorary graduates we look for people who will inspire our students and staff and we can certainly say that of all three of our guests at this month's Graduation."
The Graduation ceremonies take place in the Caird Hall in Dundee on Thursday 16 November and Friday 17 November.
NOTES TO EDITORS
The schedule for awarding honorary degrees is:
Thursday 16 November: morning ceremony, Dame Jocelyn Bell Burnell
afternoon ceremony, Dr Frederik Paulsen
Friday 17 November: morning ceremony, Helen Jones
Morning ceremonies on both days start at 10am, and the afternoon ceremony on Thursday 16 November begins at 2.30pm.
The honorary graduates will be available for photographs immediately before the ceremonies in the Robing Room, Dundee City Council Chambers, City Square (9.30am for morning ceremonies, 2pm afternoon)
ENDS
For media enquiries contact:
Grant Hill
Press Officer
University of Dundee
Nethergate, Dundee, DD1 4HN
Tel: +44 (0)1382 384768
Mobile: 07854 953277
Email: g.hill@dundee.ac.uk