University earns renewed Athena SWAN award
Published On Mon 8 May 2017 by Roddy Isles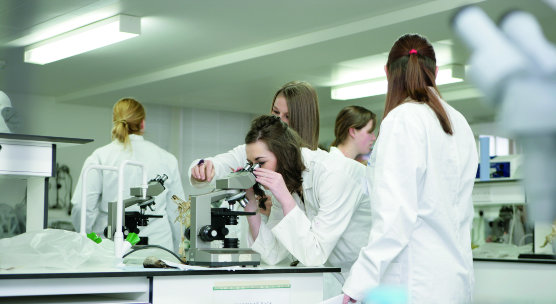 The University of Dundee's work in advancing gender equality across the institution has earned another Bronze Athena SWAN award from the Equality Challenge Unit for the Schools of Dentistry, Medicine and Nursing & Health Sciences.
The Athena SWAN Awards recognise commitment and success in developing practices to support gender equality in academia. ECU's expanded Athena SWAN Charter now covers Science, Technology, Engineering, Mathematics and Medicine (STEMM) and Arts, Humanities, Social Sciences, Business and Law (AHSSBL), subjects, academic, professional and support staff, and trans staff and students in relation to their representation, progression of students into academia, journey through career milestones and the working environment for all staff.
The three schools previously held an Athena SWAN award for the then College of Medicine, Dentistry and Nursing, before an internal restructure of academic departments. The new joint award to the three separate health schools is a sign of continued commitment and development of the equality and diversity agenda in the University and represents ongoing inter-school collaboration.
"The Athena SWAN Awards are a benchmark in demonstrating commitment to gender equality and providing a supportive working environment for women and all our staff," said Professor Nic Beech, Vice-Principal Academic Planning and Performance and institutional Athena SWAN champion.
"An enormous amount of work and commitment has been shown by staff and students across the University to provide a progressive and supportive environment for career development. The Bronze Award for our work across our health schools is very encouraging as it recognises our continuing commitment in this area.
"We are active in Athena SWAN work in other areas including Humanities, who were the first of our AHSSBL schools to submit an award application, and look forward to further progress being recognised in a similar manner."
The University holds an Institutional Bronze award and is committed to the expanded Charter's six principals addressing gender inequality, the need for cultural change within an organisation and recognition of some of the problems facing women in academia.
All of the University's STEMM schools are current award holders and the three AHSSBL schools are planning their own applications.
Athena SWAN initiatives across the University include increasing the capacity of the University nursery, improving work/life balance policies, and developing an inclusive environment for all.
The Athena SWAN awards are made by the Equality Challenge Unit. Holding an Athena SWAN award not only improves the representation and career progression of women in an institution but also has an overarching positive effect on working culture and environment that benefits all staff and students.
For more information about Athena SWAN see:
https://www.dundee.ac.uk/about//athenaswan/
http://www.ecu.ac.uk/equality-charters/athena-swan/
For media enquiries contact:
Roddy Isles
Head of Corporate Communications
University of Dundee
Nethergate, Dundee, DD1 4HN
Tel: +44 (0)1382 384910
Mobile: 07800 581902
Email: r.isles@dundee.ac.uk