Study reveals children's favourite books and authors – and literacy challenges
Published On Thu 23 Feb 2017 by Roddy Isles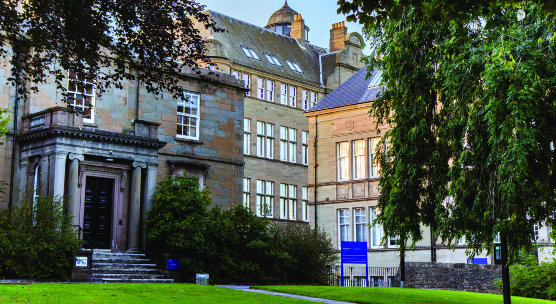 A study of UK children's reading habits led by the University of Dundee's Professor Keith Topping has identified a nationwide literacy challenge in the education system.
The 2017 What Kids Are Reading Report, compiled by education assessment provider Renaissance UK, analysed the reading habits of 848,219 young people across almost 4,000 schools. It found that Roald Dahl's classic 'The Twits' is the most frequently read book by primary school pupils while Jeff Kinney's 'Diary of a Wimpy Kid: Old School' is most read in secondary school, closely followed by David Walliams' 'Gangsta Granny'.
J.K. Rowling is by far the favourite author of primary school pupils, with six titles in the list of top ten most popular books. Her first book 'Harry Potter and the Philosopher's Stone' was also the favourite title among primary-age children. YouTube star Zoe Suggs' (Zoella) two books have been voted the favourite books for secondary school students.
The study noted that primary school students typically push themselves to read more complex books than secondary school pupils. In the final year of primary school, pupils' ages typically match up with their 'reading age'. However, by the first year of secondary school (age 11) pupils' reading age falls behind their chronological age by one year. By the time pupils reach the age of 16, their reading age typically falls to at least three years behind.
Keith Topping, Professor of Education and Social Research, said, "The brain is a muscle that literacy skills help train. As it gets more toned, like all muscles, it needs more exercise. Currently, primary schools are exercising it more vigorously by reading more challenging books – we now need to replicate this in secondary schools. More discussions in between young people about books they are reading should be encouraged.
"I would also encourage all secondary teachers, not just English teachers, to look closely at their pupils' literacy levels and remember that even the brightest students need to be stretched."
Professor Topping's research found the trend towards children reading less challenging books and reading age falling behind chronological age reflected across the UK although outcomes varied on a school-by-school basis.
Renaissance UK have highlighted a decreased emphasis on reading at ages 11-16 and have called for secondary schools to consider building dedicated reading time into the curriculum to ensure that pupils do not fall behind.
Commenting on the findings, Renaissance UK Managing Director Dirk Foch said, "Most primary schools place a large emphasis on developing literacy skills. However this is rarely transferred onto secondary school, and as a result, literacy standards at secondary level are a persistent challenge. It is clear that, if we are to avert a slide in literacy standards, many secondary school pupils would benefit from dedicated reading time in secondary school."
"The 2017 What Kids Are Reading report shows the enduring popularity of some of the classic titles and familiar favourites. Books by Roald Dahl, Julia Donaldson and J.K. Rowling continue to delight and inspire new generations of young people.
'However, the popularity of newer authors like YouTube star Zoella and David Walliams continues to rise among both primary and secondary pupils. This indicates a fascinating trend in which other mediums like television and internet are increasingly influencing young people's reading habits."
About Renaissance Learning
Renaissance Learning is the world's largest online assessment provider and supports over 1.4m students in the UK to become independent readers.
Renaissance Learning's software gives schools an accurate picture of each individual pupil's ability, enabling teachers to tailor instruction and personalise practice to raise standards accordingly.
Renaissance Learning operates two main programmes: Renaissance Star Reading interim, frequent and Renaissance Accelerated Reader daily formative assessment software.
Data from the Accelerated Reader software was used in this research.
For media enquiries contact:
Roddy Isles
Head of Corporate Communications
University of Dundee
Nethergate, Dundee, DD1 4HN
Tel: +44 (0)1382 384910
Mobile: 07800 581902
Email: r.isles@dundee.ac.uk