Rare photographs from Duncan of Jordanstone graduate show Dundee's past
Published On Tue 28 Feb 2017 by Cara Longmuir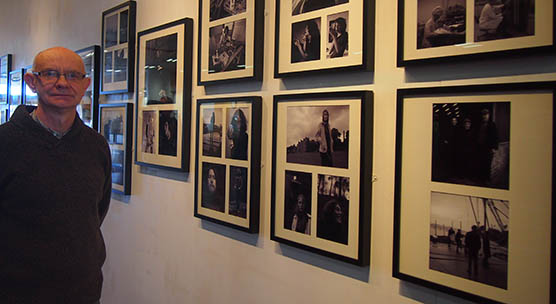 Photographs that provide a fascinating glimpse into a Dundee that has changed completely, from the ruined remains of the old Hawkhill to workers at NCR, will go on display next week at the University of Dundee.
The images gathered together in the exhibition `Way Back When' were taken by Walter Simms, who studied at Duncan of Jordanstone College of Art and Design between 1968 and 1973. He specialised in Graphic Design and Photography and eventually went on to have a successful career in graphic design and museum exhibition design.
The photos, which will be on display in the Tower Foyer Gallery from Saturday, 4th March, were taken by Walter during his student years. They offer a fascinating glimpse of the city at a time when there was great change under way. They also include portraits of Walter's fellow students at the Art College at work and at play.
Walter said, "One of my contemporaries at Duncan of Jordanstone was Gordon Robertson, who went on to be a lecturer in Graphic Design at the college. He mentioned to me that he had been archiving historical examples of design students' work, and by coincidence I had been scanning many of my college photographs.
"On viewing this material, Gordon was enthusiastic that a selection be donated to the University's Collections, and with the help of museum curator Matthew Jarron we've been able to organise this exhibition. I'm delighted to have been given this opportunity to show these examples of my photography in Dundee from over 40 years ago."
The exhibition, Way Back When, runs until Saturday, 6th May and is open Mon-Fri 9.30am-7pm and Saturday 1pm-5pm.
For media enquiries contact:
Cara Longmuir
Media Relations Officer
University of Dundee
Nethergate, Dundee, DD1 4HN
Tel: +44 (0)1382 385243
Email: c.z.longmuir@dundee.ac.uk