Radical prosthetics project goes on display in New York
Published On Tue 19 Dec 2017 by Dominic Younger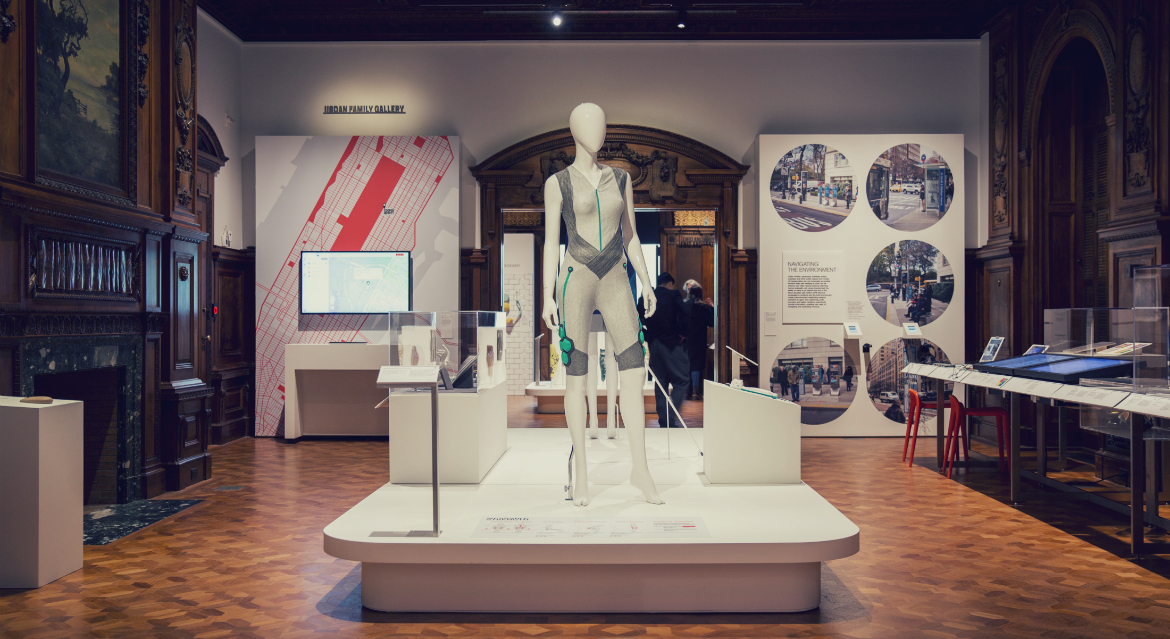 A University of Dundee project that incorporates everyday materials in the design of prosthetic hands, to better suit disability, has gone on display at a prestigious New York museum.
Hands of X, an initiative led by design researchers from Duncan of Jordanstone College of Art & Design (DJCAD) at the University of Dundee and University College London, design made-to-order prosthetics that come in a choice of materials including leather, woods, wools and metals.
Their work will be on display in 'Access+Ability' at the Cooper Hewitt, Smithsonian Design Museum in New York until the Monday 3rd September 2018.
The hands are co-created by wearers and challenge the dominant prosthetic material palettes of 'realistic' skin-coloured silicone, cyborg-like carbon-fibre and 3D-printed plastics, offering a greater sense of ownership for users.
The project team, including Graham Pullin and Andrew Cook from DJCAD; Mark Miodownik and Sarah Wilkes at the Institute of Making have developed a Spring Summer collection of designs that include materials ranging from beech and cedar woods to leathers and stainless steels.
Hands of X (Image: Andrew Cook)
Graham Pullin, Reader in Disability and Design at DJCAD, said, "We are challenging the polarisation between cosmetic hands that attempt to replicate human skin and sensational cyborg robotic hands. Hands of X is more nuanced, and draws on a deeper culture of materials worn and handled, which feels appropriate given that disability is part of the fabric of our everyday lives.
"Our 2018 collection features a palette that includes tortoiseshell acetate, the material that spectacle frames are made of, felted wools, leathers and woods. Familiar, everyday materials, which in their own way are both beautiful yet unremarkable.
"Hands of X has already been prototyped by wearers. An in-store service for browsing, trying on and selecting materials was staged in Cubitts eyewear shop in London and in a makerspace in Glasgow. Being featured in 'Access+Ability' is a fantastic acknowledgement of the work we are doing with those who use prosthetics."
Hands of X now features as one of 70 innovative designs exhibited in Cooper Hewitt's 'Access+Ability'. Other objects on display range from adaptive clothing and eating implements that assist with daily routines to apps and "smart" technologies that aid in social interactions and navigating the environment.
Caroline Baumann, Director of the Museum, said, "The diversity of works on view in 'Access+Ability' embrace the latest developments in digital technologies and fabrication methods, along with a user-driven focus on enhancing what people can do when given the opportunity.
"In partnership with the New York City Mayor's Office for People with Disabilities, the exhibition will be accompanied by our first-ever Cooper Hewitt Lab, a two-week-long series of programs this February in the Barbara and Morton Mandel Design Gallery to further the dialogue about inclusive design."
For media enquiries contact:
Dominic Glasgow
Media Relations Officer
University of Dundee
Nethergate, Dundee, DD1 4HN
Tel: +44 (0)1382 385131
Email: d.w.glasgow@dundee.ac.uk