Nature trail worms its way to Mills Observatory
Published On Fri 24 Feb 2017 by Dominic Younger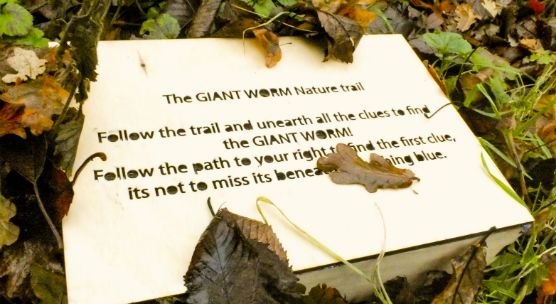 A new nature trail highlighting the use of a tiny worm in ground-breaking scientific research will go on display this weekend around Mills Observatory in Dundee.
Designed by Caitlyn Vesey, a third-year Fine Art student from Duncan of Jordanstone College of Art & Design at the University of Dundee, the trail features rhyming clues which snake around Balgay Hill and in to the Observatory.
Caitlyn will be helping launch The Giant Worm Nature Trail at 1pm this Sunday, 26th February. The launch features a family event led by researchers from the University's Centre for Gene Regulation and Expression (GRE), where attendees can learn all about the tiny 'C. Elegans' worm and create their own unique worm to take home.
Caitlyn said, "I am delighted to have been given the chance to work on and be involved in a public engagement project which I hope will bring a new audience to the Observatory.
"My aim for the project was to add a fun new aspect to the grounds of the Observatory by creating an interactive nature trail. I hope this will encourage viewers to then enter the Observatory and learn more about the Giant Worm through the exhibition inside. I am excited to see the faces of those who complete the trail and learn what they enjoyed from their experience."
Professor Tom Owen-Hughes, Head of GRE, said, "The Mills Observatory provides a unique opportunity to contrast the scale of the cosmos with our own work studying the molecular basis for life on earth. We hope visitors to the observatory will enjoy the opportunity to explore the microscopic world we share with all living creatures.
"C. elegans worms are used by biomedical researchers in the School of Life Sciences at the University to investigate human development, genetics, aging and diseases such as Parkinson's and cancer but they have also been used by NASA researchers to understand the effects of life in outer space."
The Giant Worm Nature Trail and Giant Worm exhibition are part of the ongoing Outer Space | Inner Space project, an interdisciplinary collaboration using research technology to make scientific research accessible to all.
The Giant Worm Nature Trail will be available to view from this Sunday until Friday, 31st March 2017. Admission is free and there is no need to book in advance.
The Giant Worm interactive video installation is available to view in the Observatory's Planetarium during public opening hours, except when the space is in use for Planetarium Shows or Workshops.
For media enquiries contact:
Dominic Glasgow
Media Relations Officer
University of Dundee
Nethergate, Dundee, DD1 4HN
Tel: +44 (0)1382 385131
Email: d.w.glasgow@dundee.ac.uk