Mum and daughter graduate together this Winter Graduation
Published On Fri 17 Nov 2017 by Cara Longmuir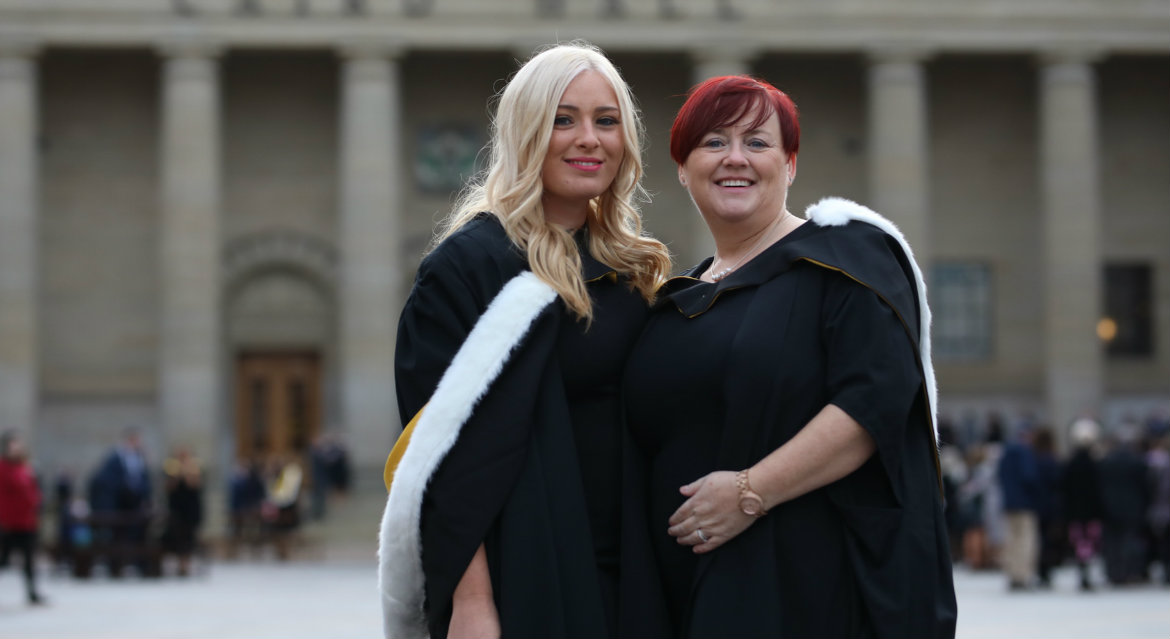 It was a family affair at the University of Dundee's Winter Graduation when a mother and daughter from Glenrothes collected their Adult Nursing degrees.
Kerry Perrie (46) and Robyn Watson (27) crossed the Caird Hall stage on Friday 17 November after studying together for three years at the University's Kirkcaldy campus.
Robyn first decided to venture into the world of nursing after the birth of her son Arthur, who is now 5. "I didn't want to go back to my old job," she said. "So I applied to college to do an NC Access to Nursing and then my mum said it was something she wanted to do as well."
Once they arrived at University they were keen to make their own path during their studies. "On our very first day we said to our tutor they had to make sure we were in different classes." said Kerry.
However, this proved to be tricky. "Even though the University tried hard to be accommodating, we saw each other all the time, explained Robyn. "The Kirkcaldy campus is small, so we were together most of the time."
The pair regularly studied together and helped each other along the way, but Kerry wanted Robyn to make her own way at University. "She used to say I was the class mum. There's been many a time she's had a tantrum because she claimed I helped everyone except for her. But I always said she'd thank me for it one day. I wanted her to do it off her own back."
Robyn added "I didn't want people to think that I was getting pulled through. I didn't want anyone thinking I got it handed to me. But she was always there for me. We would study together and help each other out."
They will also be celebrating the fact they have both secured jobs at Victoria Hospital in Kirkcaldy. Kerry has taken up a position within Acute Admissions and Robyn is now working in the Infectious Diseases Unit. "I absolutely love my ward." said Robyn "The funny thing is that sometimes I get my mum's patients. They move from her ward to mine, so it's nice to see her name on their file."
Kerry has not left education just yet and is juggling her new career with a Masters degree in Nursing and Health at Dundee.
The University's Winter Graduation ceremonies took place in the Caird Hall in Dundee on Thursday 16 November and Friday 17 November. Over 900 graduates from around the world will collected their degrees.
For media enquiries contact:
Cara Longmuir
Media Relations Officer
University of Dundee
Nethergate, Dundee, DD1 4HN
Tel: +44 (0)1382 385243
Email: c.z.longmuir@dundee.ac.uk