Improving muscle strength in older people – recruits wanted!
Published On Wed 1 Mar 2017 by Grant Hill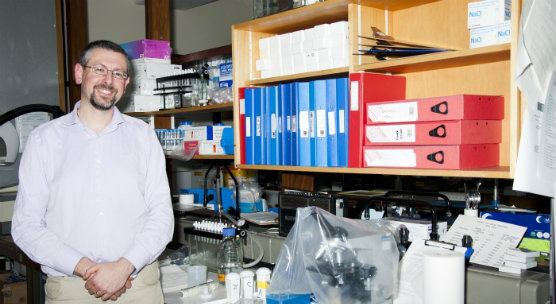 The University of Dundee is looking for older people to help with a clinical trial to improve muscle function in older people.
The UK-wide trial is testing whether a commonly used heart pill and a food supplement could improve the health of older people across the UK by improving muscle strength. The research team at the University aims to recruit 30 people aged 70 and over, contributing to a total of 450 participants across the UK. Participants will be given a heart pill (perindopril) or a matching dummy tablet, and also a food supplement powder (leucine) or matching dummy powder.
All the participants will take part for a year, and the research team will test how muscle strength, muscle size, daily function and quality of life change over the year.
"Muscle weakness, or what we call sarcopenia, is a common problem for many older people. This trial will help us find new ways to keep muscles working well in older people – and to help improve strength when muscles are weak," said Dr Miles Witham, of the University's School of Medicine, who is leading the study.
The £1.4 million trial, named LACE, is run by Tayside Clinical Trials Unit in conjunction with the Universities of Dundee, Aberdeen, and Imperial College London. It is funded by the Efficacy and Mechanism Evaluation (EME) Programme, an MRC (Medical Research Council) and NIHR (National Institute for Health Research) partnership (NIHR 15/53/03). The team at Dundee are collaborating with doctors at 15 centres across the UK, and results from the trial are expected in 2019.
For media enquiries contact:
Grant Hill
Press Officer
University of Dundee
Nethergate, Dundee, DD1 4HN
Tel: +44 (0)1382 384768
Mobile: 07854 953277
Email: g.hill@dundee.ac.uk