Giant Clydesdale ready to rock Degree Show crowds
Published On Wed 17 May 2017 by Grant Hill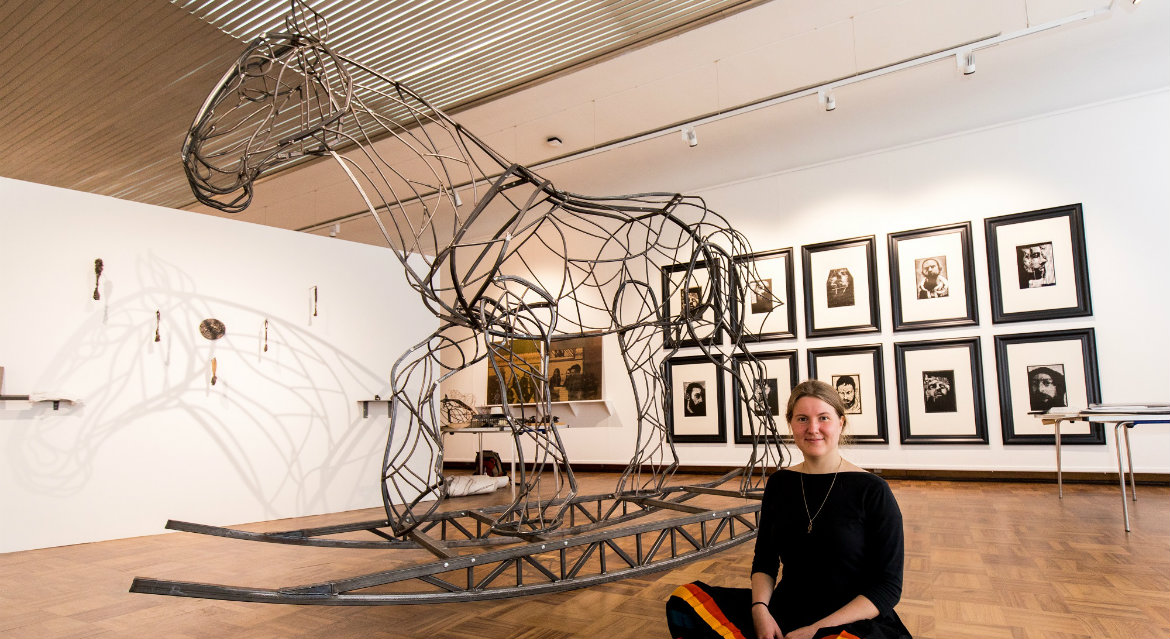 An 8 ½ foot-tall, 47-stone steel rocking horse depicting oppression and class tension within Scotland is one of the star exhibits at this year's University of Dundee Art, Design and Architecture Degree Show.
The giant Clydesdale was created by Ulrika Kjeldsen, a final-year student at the University's Duncan of Jordanstone College of Art & Design, for the exhibition. It forms the centrepiece of Ulrika's display at the 2017 Degree Show, which opens this Friday.
Twenty-three-year-old Ulrika, originally from the Aland Islands, an autonomous region of Finland, was inspired to study Scotland's history after watching the acclaimed play The Cheviot, The Stag and the Black, Black Oil at Dundee Rep theatre last year.
She chose to focus on oppression and how Scotland's people, land and resources have been abused by the ruling class throughout the centuries. In order to express this the Clydesdale, a powerful and proud working animal is made into a rocking horse, reduced to nothing but a toy.
The sculpture tested Ulrika's metalwork and welding skills to the limit, with the scale of her creation being such that it had to be built in eight parts. Each component can then be joined together for ease of assembly and disassembly in situ. The piece took three months to make and measures more than 13 feet from head to tail.
"The Cheviot, the Stag and the Black, Black Oil has an honest and playful way of telling the story of Scotland's history and it sparked off a real interest in it for me and it really felt important I should explore it in my work," said Ulrika.
"The Clydesdale represents the workforce of Scotland. The proud working horse is reduced to a plaything. I hope to make art which the audience can touch and interact with in order to reflect on their own role in Scotland.
"I have been welding since the second year of my course and work with steel a lot but I have never attempted anything on this scale before. I think my tutors were a little surprised but as it was my last year I thought I had to really go for it. I'm particularly grateful7360 for the skills the different workshop technicians have taught me over the years.
"The horse is definitely a she but I haven't managed to come up with a suitable name for her yet. I began with the middle of the body and worked my way out from there. It wasn't easy but I really like welding and challenging myself like that. Altogether it's obviously very heavy but each of the eight parts can be carried by one or two people on their own so she can be taken down and reassembled relatively easily."
Ulrika's exhibit also features a series of two-sided medals depicting stories from Scotland's past. Having studied here for the past four years she is keen to stay in the country after graduation and will be joined by her 'adopted family' of friends she has made in Dundee for her Degree Show.
Ulrika, who studied Fine Art, is one of almost 350 students from Duncan of Jordanstone and the University's Architecture programme exhibiting at this year's Degree Show.
The exhibition opens with the traditional Preview Evening for the students, their families and invited guests on Friday, 19th May and will open to the public the following day.
Admission is free and the show if open from 10am until 8pm (Monday – Friday) and 10am to 4pm (Saturday – Sunday) until Sunday, 28th May.
More information is available at http://www.dundee.ac.uk/djcad/degreeshow/.
For media enquiries contact:
Grant Hill
Press Officer
University of Dundee
Nethergate, Dundee, DD1 4HN
Tel: +44 (0)1382 384768
Mobile: 07854 953277
Email: g.hill@dundee.ac.uk