Ghosts of Christmas past: magic lantern set to dazzle Dundee
Published On Mon 11 Dec 2017 by Dominic Younger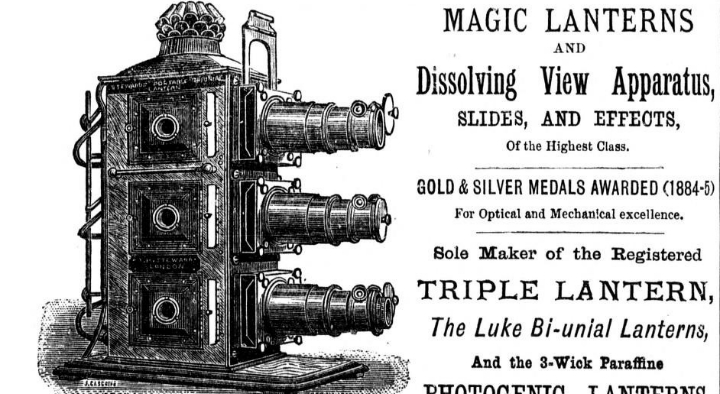 A rare and authentic triple-lensed magic lantern will be used for a spectacular Christmas show at the University of Dundee this week.
Dr Jeremy Brooker, magic lantern performer and Chairman of the Magic Lantern Society, will present 'A Grand Gothic Magic Lantern Christmas' for the Arts & Humanities Research Institute (AHRI) Christmas Lecture.
The event will take place from 6pm-7.30pm on Wednesday 13 December, in Room 1.36 of the University's Tower Building. It is free, open to all and follows a wine reception from 5.15pm.
Dr Keith Williams, Reader in English at the University, said, "This is an unique opportunity to see a working demonstration of what was the most important visual medium of the Victorian period.
"Magic lantern shows were as widely known and watched as cinema, television and the internet are now, and indeed these media would not have developed without them.
"This extraordinary event will allow us to experience the awe a Victorian audience would have felt."
Magic lanterns were early projectors which used a series of lenses and static and moving mechanical slides to mysteriously project images onto walls and screens.
First developed in the 17th Century, they reached their peak of popularity in Victorian times, when before the advent of cinema, magic lantern projections of painted then photographic images, often ingeniously animated, delighted and educated audiences.
Partly due to the darkened room required for a show, and the mysterious intangibility and transparency of the images, ghosts and other supernatural subjects were popular, as were scenes from well-known stories of the time such as Dickens' A Christmas Carol.
Writers such as Dickens were fascinated by the lantern and his miser Scrooge is himself subjected to moving views of past, present and future typical of lantern stories.
Dr Brooker has been giving magic lantern shows since he was 14 and has written extensively about the magic lantern and its history. His special Christmas show features the rarest and most complex form of magic lantern combining three projectors in a single device. It allows him to present a fast-moving show, featuring the most spectacular moving and dissolve effects the lantern can produce.
Dundee's best known magic lanternist was Peter Feathers, who ran an equipment hire and slide shop on Castle Street. Like many lanternists, he made the transition to cinema, becoming one of Scotland's first film-makers and filming one of cinema's first 'phantom rides', a virtual railway ride over the Tay Bridge in 1897 created by mounting a camera at the front of the engine. A plaque commemorating Peter's contribution to cinema can be seen in Castle Street.
For media enquiries contact:
Dominic Glasgow
Media Relations Officer
University of Dundee
Nethergate, Dundee, DD1 4HN
Tel: +44 (0)1382 385131
Email: d.w.glasgow@dundee.ac.uk