Géotechnique Lecture honour for Dundee academic
Published On Thu 9 Nov 2017 by Grant Hill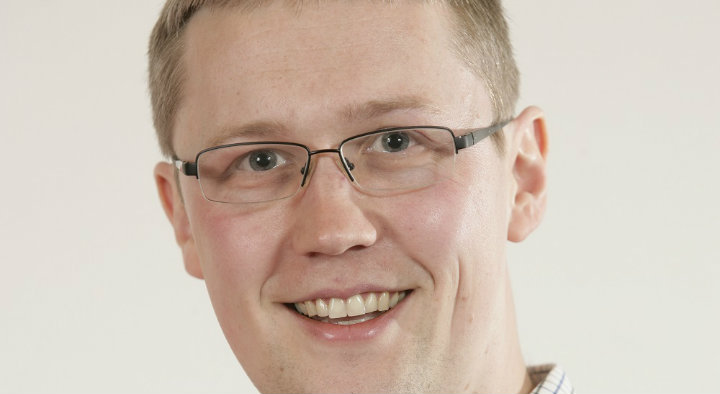 A University of Dundee researcher has been chosen to deliver one of the most prestigious lectures in the field of Civil Engineering in recognition of his work exploring how vegetation can protect transport infrastructure against the damaging effects of natural hazards.
Dr Jonathan Knappett, Discipline Lead for Civil Engineering at the University, has been chosen to deliver the 13th Biennial Géotechnique Lecture at the Institution of Civil Engineers in London on Tuesday 14 November. The talk, entitled 'Use of vegetation in low-carbon Geotechnical Engineering', will highlight novel cross-disciplinary work conducted between the University of Dundee and the James Hutton Institute over the past 10 years, and look to future engineering applications of planted vegetation.
Vegetation is often found near infrastructure, including on natural and man-made slopes and alongside transport corridors. Dr Knappett has shown how plant roots offer potential benefits for use as a low-cost, carbon-neutral natural alternative to conventional ground reinforcement techniques, to stabilise sloping ground against natural hazards including earthquakes, rainfall and landslides.
Despite these benefits roots are rarely incorporated explicitly within geotechnical design, principally due to perceived issues of unpredictability in location and variability in biomechanical root properties. The lecture will include a discussion of new field measurement techniques developed to overcome these difficulties.
"I am delighted to have been named the Géotechnique Lecturer for 2017," he said. "This is a very prestigious honour and it is the first time an academic from Dundee has been selected to give it. The engineering uses of vegetation is one of my research areas and it has significant potential to become a realistic, environmentally sustainable technique for use in practical Geotechnical Engineering.
"Having demonstrated the benefits of vegetation on soil behaviour in the first part of the lecture, I will explore how this may be applied to a wider range of practical problems, including extending the design life of ageing slopes in areas prone to earthquakes or under the effects of climate change. These applications will be based on work that is ongoing at the University."
The Géotechnique lecture is a biennial lecture on the topic of soil mechanics, organised by the British Geotechnical Association and named after its journal Géotechnique. Established in 1948, Géotechnique is the world's premier geotechnics journal, publishing research of the highest quality on all aspects of geotechnical engineering.
More information about Dr Knappett's lecture can be found at https://www.ice.org.uk/events/geotechnique-lecture-2017#overview.
For media enquiries contact:
Grant Hill
Press Officer
University of Dundee
Nethergate, Dundee, DD1 4HN
Tel: +44 (0)1382 384768
Mobile: 07854 953277
Email: g.hill@dundee.ac.uk