Dundee one of the world's best for international student satisfaction
Published On Mon 16 Jan 2017 by Grant Hill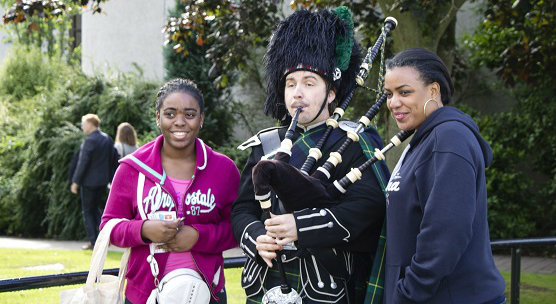 The University of Dundee has been ranked 1st in Scotland, 3rd in the UK and 14th globally for overall average student satisfaction in this year's International Student Barometer (ISB).
With feedback from over 2.5 million students worldwide across all student types, levels and years of study, the ISB is the world's largest annual survey of international students. It reflects on four main aspects of the university experience for international students – Learning, Living, Support and Arrival.
More than 180 institutions in dozens of countries were included in the survey, including 42 in the UK, of which eight were in Scotland.
Wendy Alexander, Vice-Principal (International) of the University, said, "This excellent result epitomises much of what we do at Dundee. We are a Scottish university with a global focus and our world-renowned student experience is one of the things we are most proud of.
"I am delighted that that the results reflect the support our international students receive to help them adjust into life in Scotland and the learning experience they can expect here. As well as our international students benefitting from their experience in Dundee, they also enrich the experience of all our students from Scotland and elsewhere in the UK.
"Our mission is to transform lives locally and internationally. The education and experience these students receive at the University will not only benefit them but countless others whether they choose to go back to their own countries after graduation, decide to make here their home, or go elsewhere. They will go on to do exceptional things in their chosen fields and the links they forge will benefit us all."
Highlights of the ISB include:
Enquiry Centre (4th in ISB)
Careers Service (4th in ISB)
The physical library (5th in ISB)
The subject area expertise of lecturers/ supervisors (8th in ISB)
Getting time from academic staff when I need it/ personal support with learning (8th in ISB)
Internet access at my accommodation (3rd in ISB)
Finance/Cash Office (8th in ISB)
The ISB is the leading benchmarking tool used to track the international student experience. It is independently administered for universities by the International Graduate Insight Group (i-graduate.org).
Dundee is the Scottish University of the Year in The Times & Sunday Times Good University Guide for the second year in a row. The University recorded its highest ever scores in the most recent National Student Survey (NSS) and rose five places to 180th in the newest edition of the Times Higher Education World University Rankings.
For media enquiries contact:
Grant Hill
Press Officer
University of Dundee
Nethergate, Dundee, DD1 4HN
Tel: +44 (0)1382 384768
Mobile: 07854 953277
Email: g.hill@dundee.ac.uk