Doris packs a punch – satellite images show the power of Storm Doris
Published On Thu 23 Feb 2017 by Dominic Younger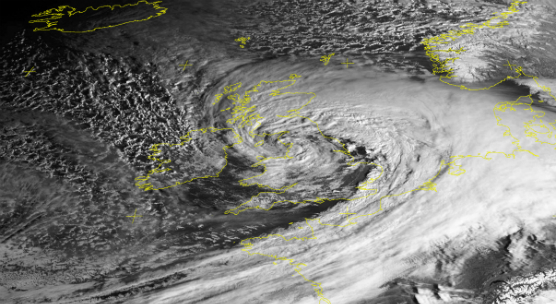 Images captured by the University of Dundee Satellite Receiving Station yesterday and today starkly illustrate the power and size of the most recent 'weather bomb' to hit the UK.
While Monday 20th February saw London's warmest day of the winter so far, Thursday 23rd saw torrential rain, wind and even snow come to many parts of the British Isles.
The three images (captured by the NPP satellite at 13:07 GMT on 22/07/17, 09:00 GMT on 23/02/2017 from Meteosat-10 (SEVIRI sensor) and 12:48 GMT on 23/02/17 respectively) demonstrate how things changed in 24 hours, with Storm Doris completely covering the UK.
The images are free to use but MUST BE CREDITED to 'NEODAAS/University of Dundee'.
For media enquiries contact:
Dominic Glasgow
Media Relations Officer
University of Dundee
Nethergate, Dundee, DD1 4HN
Tel: +44 (0)1382 385131
Email: d.w.glasgow@dundee.ac.uk