Discovery Days 2017
Published On Fri 6 Jan 2017 by Grant Hill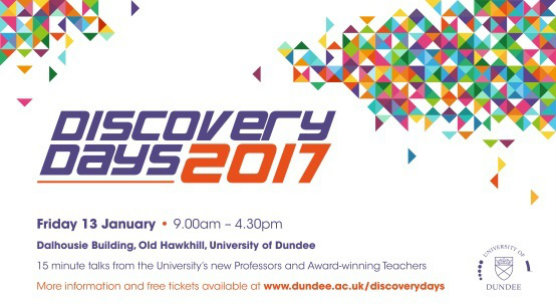 Bacterial cities and bladder cancer, skin diseases and street citizenship, flatscreen technology and fitness in cyberspace – just some of the subjects to be explored at the University of Dundee's annual Discovery Days event next week.
Discovery Days 2017 takes place on Friday 13th January at the Dalhousie Building. Eight newly appointed Professors will each talk for 15 minutes about their area of research, as will award-winning teachers and students whose approach to entrepreneurialism has been recognised.
The short presentations will provide glimpses of the leading-edge work the University is engaged in that is helping to transform lives around the world. The achievements of staff and students in communicating their research to a public audience will be recognised by the presentation of the Stephen Fry Awards for Public Engagement Project of the Year and Engaged Researcher of the Year.
Professor Pete Downes, Principal and Vice-Chancellor of the University, said, "Discovery Days is always a fascinating whirlwind tour through the outstanding achievements and future plans of our staff. This year's presenters will each demonstrate their own contribution to making Dundee Scotland's University of the Year for a second consecutive year.
"Since Discovery Days began in 2004, they have brought the work of 218 new Professors at the University to the attention of different audiences, including members of the public, school pupils, students, academics and support staff from across the University.
"This year, we will be welcoming a further eight new Professors, talking on a rich variety of subjects. The event also hosts three presentations from our leading learning and teaching practitioners, who will give us an insight into new and innovative teaching methods and technology. This will be a voyage of discovery for us all."
Speakers include:
Discovery Days 2017 takes place at the Dalhousie Building, Old Hawkhill on Friday 13th January. Members of the public are invited to attend as many or as few sessions as they wish, and will have the opportunity to ask the speakers' questions about their work.
A full programme and tickets are available from www.dundee.ac.uk/discoverydays.
For media enquiries contact:
Grant Hill
Press Officer
University of Dundee
Nethergate, Dundee, DD1 4HN
Tel: +44 (0)1382 384768
Mobile: 07854 953277
Email: g.hill@dundee.ac.uk