City-inspired colouring book set to help students 'Dee-Stress'
Published On Tue 28 Feb 2017 by Dominic Younger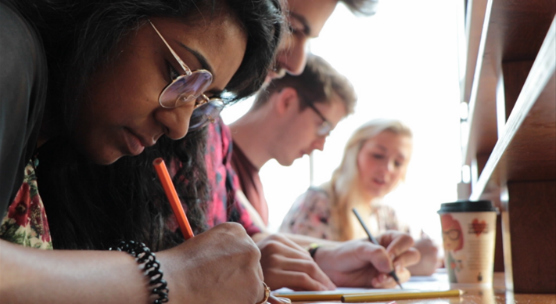 Students at the University of Dundee can unwind ahead of exams by colouring in illustrations of the city's most famous landmarks contained in a new book released this week.
'Dee-Stress', a 28-page colouring book that will enable students to relax is to be launched by Dundee University Students' Association (DUSA) on Thursday 2nd March.
Released on the national University Mental Health Day, 'Dee-Stress' is filled with prominent landmarks such as the Caird Hall, the RRS Discovery and the Magdalen Green bandstand alongside advice and services available to students at the University.
The book was designed by former Duncan of Jordanstone College of Art & Design students Kevin Biggins, Jill Montgomery and Maha Ghani.
Tharani Packiahrajah, Vice President of Student Welfare at DUSA, said, "Dee-Stress is a colouring book developed by students for students. Whether you chose Dundee or Dundee chose you, you are here to study and we are here to help you unwind."
Andrew Stewart, Vice President of Communications and Campaigns, said, "The city served as inspiration for Dee-Stress. It's a key priority for the entire University community to help each other and we are delighted to launch this book to help other students relax.
"We want every student to feel comfortable picking up a copy and taking it home."
Copies of 'Dee-Stress' will be available at DUSA from 10am Thursday, 2nd March. Any donations will go towards DUSA's Raising and Giving charity 2017, MS Therapy Centre Tayside.
For media enquiries contact:
Dominic Glasgow
Media Relations Officer
University of Dundee
Nethergate, Dundee, DD1 4HN
Tel: +44 (0)1382 385131
Email: d.w.glasgow@dundee.ac.uk