Business students to benefit from CMI partnership
Published On Tue 17 Oct 2017 by Roddy Isles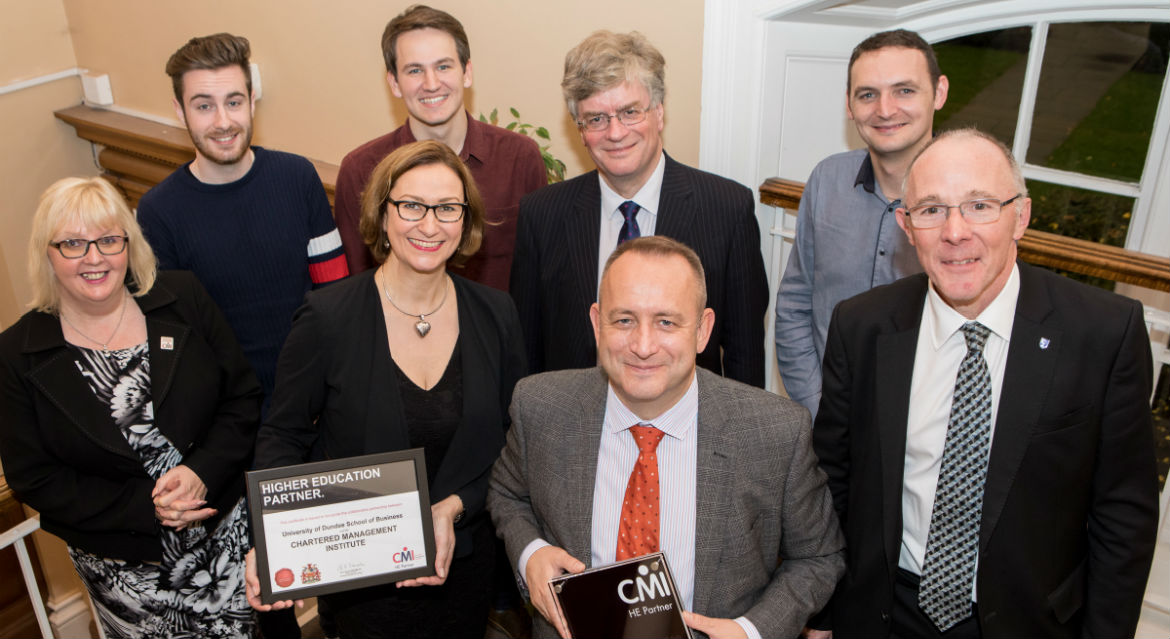 The University of Dundee School of Business (UDSB) has entered into a partnership with professional management body the Chartered Management Institute (CMI), which will significantly boost the employability of graduates while aiding the professional development of staff.
The UDSB is now a CMI-accredited centre and an approved higher education partner. This means up to 360 undergraduate and postgraduate business students will work towards CMI leadership and management qualifications each year as part of their degrees. Having obtained an industry-recognised professional qualification as part of their studies, they will be more attractive to potential employers upon graduation.
Fifty UDSB staff will receive CMI memberships to support the delivery of the programmes, while a further eight members of staff can apply for Chartered Manager status, the highest status that can be achieved in the management profession. Also, 200 non-business students will be able to work towards CMI qualifications. This represents one of the largest partnerships between the organisation and a university.
Executives from CMI visited the University on Monday 16 October to formalise the agreement and meet students who will benefit from the partnership.
Professor Kevin Grant, Director of the School of Business, said, "These new links with the CMI are another indication of our development and progress as we strive to be one of the best Business Schools in the country. The vision of the CMI ties in very closely to our own vision, mission and research output and future development.
"A recent survey from CMI indicated that over 75% of companies expected business graduates to have or be willing to work towards an additional professional qualification. The benefits that this will offer our students, and our staff is clear to see. Our degrees now offer something different to our students and the CMI link will ultimately help strengthen their employability upon graduation and sets them up as the business leaders of tomorrow."
UDSB students will gain access to exclusive CMI networking events, benefit from mentoring by top-level CMI industry-expert members, and be fast-tracked into the next stage of training to become Chartered Managers. They will also be able to access a mix of academic and practitioner development material developed by professional members for members to enhance their managerial skills and knowledge.
In addition, they will benefit from the CMI's Curriculum Enrichment programme, which will see guest lectures from leading employers, access to the latest CMI research, and a series of awards and masterclasses take place.
Ian Myson, Director of Higher Education partnerships at CMI, said, "As the only chartered professional body dedicated to raising the standards of management and leadership, we're delighted to partner with the University of Dundee. The UK needs 1.9m new managers by 2024 in order to meet productivity demands. Therefore, it's essential to develop graduates with work-ready skills to manage and lead. Students taking CMI-backed courses will earn the qualifications and professional accreditations needed to stand out in the competitive job market."
For more on the University of Dundee School of Business please see: https://www.dundee.ac.uk/business/about/
For media enquiries contact:
Roddy Isles
Head of Corporate Communications
University of Dundee
Nethergate, Dundee, DD1 4HN
Tel: +44 (0)1382 384910
Mobile: 07800 581902
Email: r.isles@dundee.ac.uk