Budding gamers to 'Minecraft' University birthday building
Published On Tue 9 May 2017 by Dominic Younger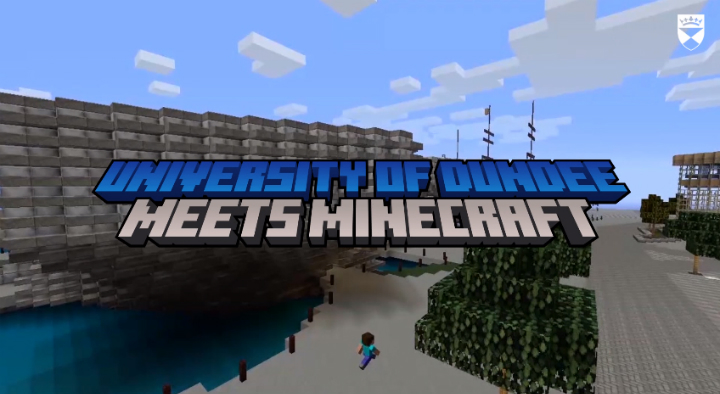 The University of Dundee is seeking Minecrafters to design and build an iconic University building in a virtual Dundee later this month.
Gaming enthusiasts, budding architects and designers are invited to register teams of five for a 50-hour long design jam during the 50th Anniversary weekend at the University.
The teams will vie against one another to craft a brand new building in Minecraft on the Xbox One with support from 4J Studios, who have previously built Edinburgh Castle, the Forth Rail Bridge and the V&A Museum of Design, Dundee in the virtual world.
Professor Sir Pete Downes, Principal and Vice-Chancellor of the University, said, "To celebrate the 50th Anniversary of the University, we are looking for you to come and to design and build a completely new building on campus.
"We are delighted to welcome anyone interested in joining our alumni as we celebrate the last 50 years of transforming lives and we look forward to seeing what the next 50 years could look like."
Chris van der Kuyl, 4J Studios Chairman and Co-founder, said, "As an alumnus of the University, I am incredibly excited to see what the public will build. The University of Dundee has been at the heart of Dundee for so long that it is great to open it up during its birthday weekend."
Applicants for the 50-hour jam must be 18 years-old and over, however, two consoles will be dedicated for visitors and under 18 year-olds to craft on. Under 16 year-olds must be accompanied by an adult.
Registered teams must be willing to participate from 12 noon on Friday, 19th May until 2 pm on Sunday, 21st May.
To find out more and register your team of five email: development@dundee.ac.uk before midnight Friday, 12th May.
For media enquiries contact:
Dominic Glasgow
Media Relations Officer
University of Dundee
Nethergate, Dundee, DD1 4HN
Tel: +44 (0)1382 385131
Email: d.w.glasgow@dundee.ac.uk