Awards success for University spin-outs
Published On Thu 16 Nov 2017 by Grant Hill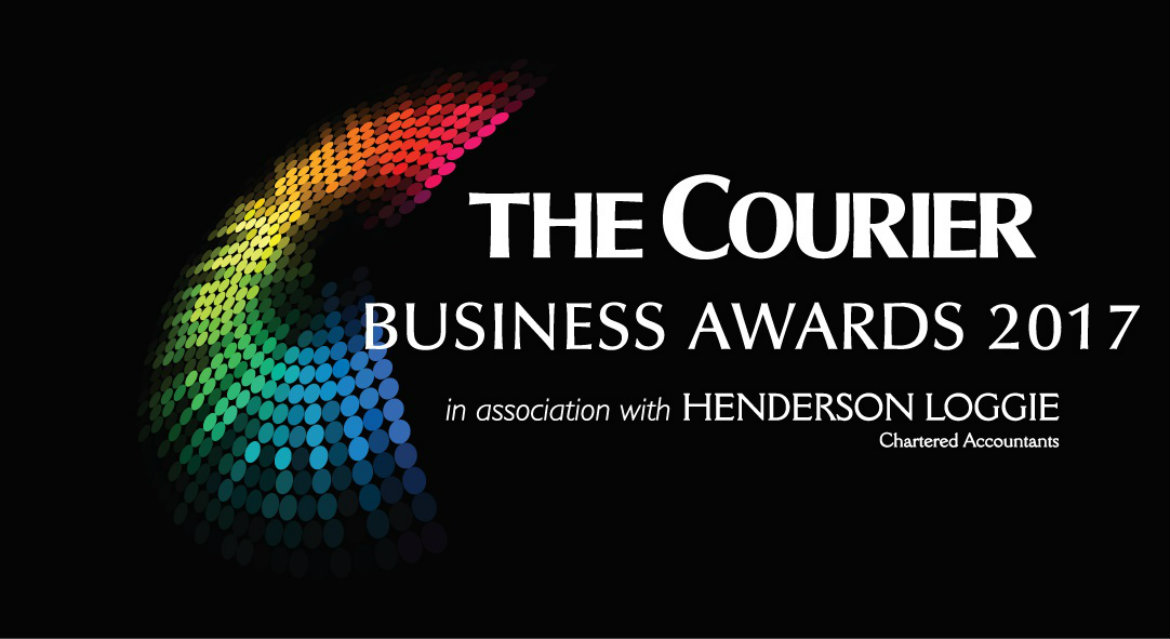 Three University of Dundee spin-out companies have struck gold at this year's Courier Business Awards.
Exscientia was named Science and Technology Business of the Year while MyWay Digital Health won the Enterprise in Education prize and STAR-Dundee took the Design and Innovation Business of the Year accolade. All three companies grew out of University research and have demonstrated excellence in their respective fields being commercialised.
Exscientia, a School of Life Sciences spin-out, is at the forefront of Artificial Intelligence (AI)-driven drug discovery and design. It collaborates with several leading pharmaceutical companies to find therapies for some of the world's most devastating diseases. Current partners include GlaxoSmithKline, Evotec, Sanofi, Sumitomo Dainippon Pharma and Sunovion Pharmaceuticals.
The Science and Technology award recognises Exscientia's substantial growth over the past year through its application of AI and big data to accelerate drug discovery.
Dr Richard Bickerton, Chief Informatics Officer at Exscientia, said, "We are really pleased to have won this Courier Business Award, which is a great recognition of the world-class science we have developed at Exscientia and previously at the University of Dundee, and the exciting progress this science has enabled us to make in accelerating the drug discovery process in many disease areas."
My Diabetes My Way is the flagship product of My Way Digital Health. This multi award-winning online self-management platform for people with diabetes helps patients in Scotland manage their own condition and to develop further innovative and cost saving digital health solutions. MyWay Digital Health are currently rolling out the platform to areas in other parts of the UK and beyond.
Key criteria for the Enterprise in Education award includes innovation and research excellence, demonstrable business strategy for commercial success and ability to form partnerships for future growth.
Chief Technical Officer Dr Scott Cunningham said, "Diabetes is currently increasing prevalence globally at an alarming rate, with low-cost population-based interventions urgently required to assist in the management of the condition. The My Diabetes My Way self-management platform has a proven track-record in Scotland, with high levels of patient satisfaction and positive feedback.
"Crucially, we are beginning to see significant improvements in key diabetes markers amongst those who use the service. These factors have considerable implications for the reduction in diabetes complications and improvements in quality of life. This award is fantastic recognition for the importance of the services that the team is currently implementing and developing for people with diabetes."
For the past 15 years, STAR-Dundee has been a world-leading provider of spacecraft on-board data handling network technology for the aerospace industry. Technology that originated in Dundee is now being used across the world on more than one hundred spacecraft which are monitoring the Earth, exploring nearby planets and asteroids, mapping our galaxy and sensing the further flung parts of our solar system.
The company recently completed its transition to employee ownership, with founder Professor Steve Parkes stepping down as Chief Executive Offcier.
New CEO Stuart Mills said, "STAR-Dundee has been a great success because of its people. Our move to employee ownership allows these individuals to have a greater say in the running of the company and to further benefit from the company's success."
The Courier Business Awards celebrates business and individuals from across Tayside, Fife, Perthshire and Angus whose entrepreneurial flair is pushing the envelope in the pursuit of commercial success and put the community at the heart of everything they do.
For media enquiries contact:
Grant Hill
Press Officer
University of Dundee
Nethergate, Dundee, DD1 4HN
Tel: +44 (0)1382 384768
Mobile: 07854 953277
Email: g.hill@dundee.ac.uk