Arbikie to serve a measure of advice
Published On Thu 26 Oct 2017 by Dominic Younger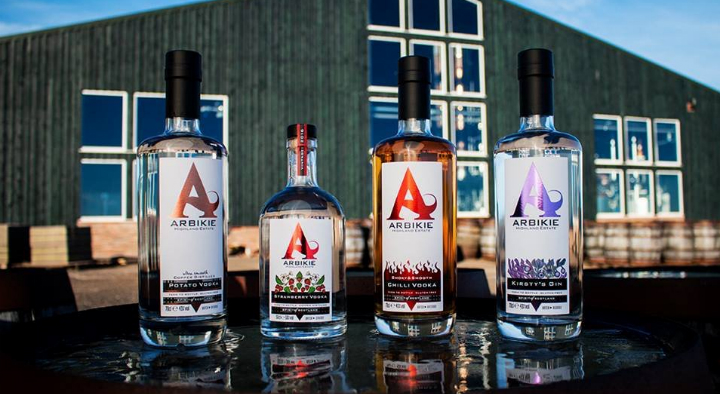 Image supplied by Arbikie Highland Estate ©
University of Dundee alumnus and Commercial Director of the Arbikie Highland Estate, Iain Stirling will return to his alma mater next week to host a masterclass on enterprise.
Iain who graduated from the University with an MA in Modern History and Economics with Politics in 1989, went on to found the successful Arbikie Highland Estate with his brothers, David and John in 2014. The business is best known for their small batch, super premium spirits, and Scotland's first potato vodka.
Iain said, "It's a real honour to be asked by to the University of Dundee to talk about what we have done so far with our Arbikie drinks business. Our unique 'Field-to-Bottle' approach to drinks provenance where we combine farming and distilling has brought global interest in our innovation.
"Hopefully I can pass on some entrepreneurial learnings and help encourage fellow entrepreneurs to get out there and 'just do it'."
Brian McNicoll, Enterprise and Entrepreneurship Manager at the University, said, "We are delighted to welcome Iain for next week's masterclass. All of our weekly talks are open to everyone and are led by Scottish entrepreneurs who excel in their fields and can pass on their expert knowledge.
"It will be great to have one of our own alumni share his secrets of success with our current students."
The Masterclass is organised by the Centre for Entrepreneurship at the University of Dundee and takes place on Wednesday, 1 November, from 1pm – 2pm in Lecture Theatre 1 at the University's Dalhousie Building.
For media enquiries contact:
Dominic Glasgow
Media Relations Officer
University of Dundee
Nethergate, Dundee, DD1 4HN
Tel: +44 (0)1382 385131
Email: d.w.glasgow@dundee.ac.uk