Vitamin pill could prevent heart attacks and strokes in people with kidney disease
Published On Thu 14 Apr 2016 by Grant Hill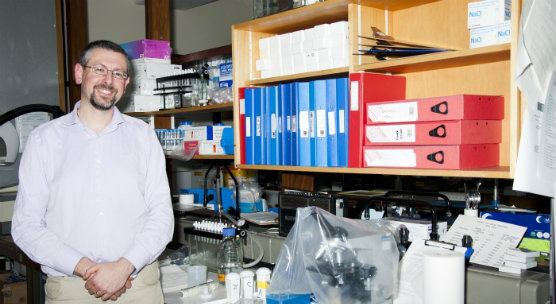 A new trial, led by the Universities of Dundee and Glasgow, is underway to discover whether vitamin K can improve heart and blood vessel health in chronic kidney disease patients.
People with kidney disease have a significantly greater risk of having a heart attack or stroke as the condition causes a layer of calcium to settle in the wall of blood vessels, making them stiff, which increases blood pressure and puts strain on the heart.
Chronic kidney disease affects over a third of people over the age of 65 and is one of the commonest comorbidities seen in hospitals, particularly in those admitted with acute cardiovascular conditions such as heart attacks and strokes.
Vitamin K is found in all sorts of leafy greens, and has been associated with a number of health benefits over the years. Previous research has suggested it plays an important part in regulating calcium build-up in blood vessels and the first patients have begun receiving treatment in the new clinical trial, funded by the British Heart Foundation (BHF), to see if vitamin K supplementation reduces vascular stiffness.
Dr Miles Witham, the lead researcher on the trial from the University of Dundee, said, "If successful, this trial could open up a whole new avenue of ways to reduce heart attacks and strokes, not only in people with chronic kidney disease but also in others affected by calcium build-up in their blood vessels.
"This trial has only been possible thanks to funding provided by the British Heart Foundation and the generous support of their donors."
Chronic kidney disease is a long-term condition where the kidneys do not work effectively. It is linked to ageing and is a strong risk factor for cardiovascular disease. Current treatments to tackle the heightened risk of heart disease, such as blood pressure medication, are less effective in people with kidney disease and do not tackle the problem of calcium in the blood vessel.
Dr Witham and his colleagues from Dundee and Glasgow will give either 400mcg of vitamin K or a placebo to 166 people with CKD once a day for a year and measure the stiffness of blood vessels. As vitamin K is a cheap, safe, and naturally occurring vitamin, the trial could reveal a new and inexpensive way of reducing heart attacks and strokes in people with kidney disease.
Professor Jeremy Pearson, Associate Medical Director at the British Heart Foundation, said, "Chronic kidney disease is common in people over 60, and as it progresses their risk of cardiovascular event increases several-fold. New treatments to slow the progression of the disease and its cardiovascular complications are therefore badly needed.
"This BHF-funded trial will test whether a simple treatment, vitamin K supplementation, can reduce the development of arterial stiffness – an early sign of cardiovascular risk. If successful, it will pave the way for a large scale trial to find out whether vitamin K supplementation reduces cardiovascular events in CKD patients and therefore should become part of routine treatment.
"We can only fund clinical trials like this with the support of the public. We receive no funding from Government so we rely on the continued and generous support of people making donations."
Notes to editors:
About British Heart Foundation:
Coronary heart disease is the UK's single biggest killer. For over 50 years we've pioneered research that's transformed the lives of people living with heart and circulatory conditions. Our work has been central to the discoveries of vital treatments that are changing the fight against heart disease. But so many people still need our help. From babies born with life-threatening heart problems to the many Mums, Dads and Grandparents who survive a heart attack and endure the daily battles of heart failure. Every pound raised, minute of your time and donation to our shops will help make a difference to people's lives.
About the University of Glasgow:
As a top 1% university, we deliver world-class and world-changing research and education with impact. We are a member of the prestigious Russell Group of leading UK Universities with annual research income of more than £181m and the top student satisfaction rates in Scotland.
Recent award success can be found here: http://www.gla.ac.uk/about/awardsandrankings
About the University of Dundee:
Scottish University of the Year (Times / Sunday Times Good University Guide 2016)
One of the world's top 200 universities
Ranked top in Scotland and 15th in the UK (2015 National Student Survey)
Home to one of the UK's top medical schools (1st in Scotland, 4th in the UK, Guardian University League Table 2016)
An international reputation for research excellence across the biomedical sciences
For media enquiries contact:
Grant Hill
Press Officer
University of Dundee
Nethergate, Dundee, DD1 4HN
Tel: +44 (0)1382 384768
Mobile: 07854 953277
Email: g.hill@dundee.ac.uk