University moves up a gear with Cycle Friendly Award
Published On Tue 8 Nov 2016 by Dominic Younger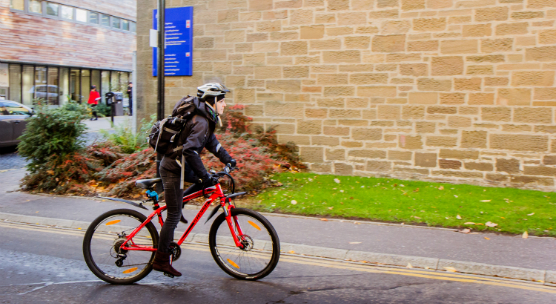 The University of Dundee has been named Cycle Friendly Campus of the Year, an award recognising the institution's efforts to promote sustainable travel.
The award was presented at Cycling Scotland's inaugural award ceremony and celebrates the University as the first campus in Scotland to achieved Cycle Friendly status through its five-year strategy to build a sustainable transport hub. Initiatives include solar-powered electric bike recharging stations as well as an inner tube vending machine and an outdoor maintenance stand.
Trudy Cunningham, Environment and Sustainability Officer at the University, said, "I am delighted to receive this award on behalf of the University. I am particularly pleased we have been recognised for our work, but thanks must also go to our many partners – Cycling Scotland, TACTRAN, SUSTRANS and Dundee City Council who have all helped to increase cycling and improve infrastructure both on the campus and within the city. With our new cycling strategy the journey towards a more sustainable campus will continue."
The University has been praised for sustained efforts in promoting cycling through the creation of a cycling hub as well as hosting bike breakfasts and cycle training ensuring safe, social cycling which continue to create ever stronger links with the city.
Paul Wright, Cycling Scotland behaviour change manager, said, "Cycling Scotland has worked closely with the University of Dundee in working towards the Cycle Friendly Campus Award. The University has shown great commitment to getting more people cycling around campus and I congratulate them on their Cycle Friendly Campus of the Year award."
The Cycle Friendly Campus Award is run by Cycling Scotland with funding from Transport Scotland and recognises exemplar projects from Scotland's college and university campuses where cycling is a real and accessible part of campus life.
For media enquiries contact:
Dominic Glasgow
Media Relations Officer
University of Dundee
Nethergate, Dundee, DD1 4HN
Tel: +44 (0)1382 385131
Email: d.w.glasgow@dundee.ac.uk