University in Top 10 for graduate employment
Published On Wed 27 Jul 2016 by Grant Hill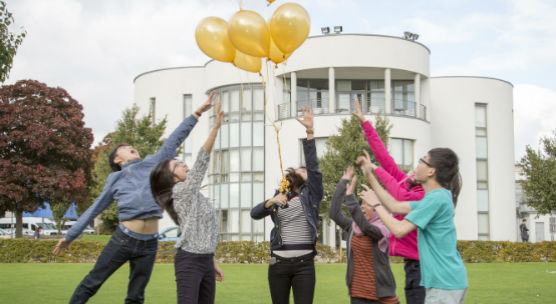 The University of Dundee is one of the top UK universities for graduate employment, according to this year's Destinations of Leavers from Higher Education (DLHE) survey.
The survey, published by the Higher Education Statistics Authority, shows that 96.2% of Dundee graduates were in work or further study six months after graduation, up from 94.5% last year. In analysis of the data carried out by Times Higher Education, only seven large UK institutions scored higher.
The figure for those in work, study or due to start work rises to 96.9%, up from 96.0%, with unemployment among graduates from the University falling from 3.9% to 3.1%. This data relates to first-degree, home-domiciled full time-study graduates who completed their course in 2014/5 and were surveyed six months after the end of their course.
Graham Nicholson, Director of Student Services at the University, said, "We are delighted by our strongest-ever showing in the DLHE survey, which is testament to the quality of our graduates, the regard in which the University is held at home and abroad, and the work carried out to ensure our graduates are as ready for the labour market as possible.
"Employability is embedded into everything we do because we have a duty to our students to give them the best possible grounding for the world of work, while we also cultivate and strengthen academia-industry connections.
"In addition our sector-leading work in widening access means we are having a transformative impact on the lives of students from the most deprived areas of the country. Not only do they have the chance to fulfil their academic potential but they are also highly likely to go on to a positive destination after university."
In other recent successes, Dundee has been:
named Scottish University of the Year 2016 (Times and Sunday Times)
ranked top in Scotland in the 2015 National Student Survey (NSS)
ranked in the World's Top 200 Universities and 31st in the UK (Times Higher World University Rankings 2015/16)
ranked 1st in Scotland, 7th in the UK and 19th in the world for overall average satisfaction (International Student Barometer 2014)
ranked among the top 20 most innovative universities in Europe, and 5th in the UK and 1st in Scotland (Reuters 2016)
named the UK's top university under 50 years old (Times Higher Education)
For media enquiries contact:
Grant Hill
Press Officer
University of Dundee
Nethergate, Dundee, DD1 4HN
Tel: +44 (0)1382 384768
Mobile: 07854 953277
Email: g.hill@dundee.ac.uk