Trauma support project to help children across the world
Published On Thu 14 Apr 2016 by Grant Hill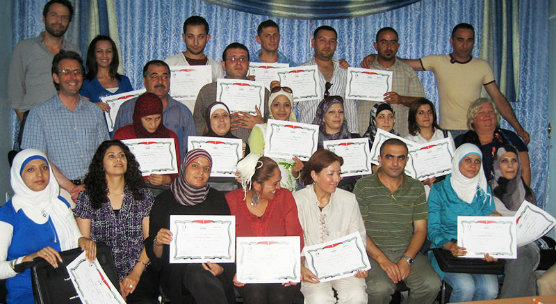 A pioneering project to help child victims of war and disaster cope with their trauma and grief is to be made globally available following a successful trial in Palestine led by a team including a trauma expert at the University of Dundee.
The `Children and Grief' manual tells group leaders how to lead groups of children following traumatic losses. Dr Ian Barron, Reader in Trauma Studies at the University of Dundee, has worked in collaboration with Dr Ghassan Abdallah, Director of the Centre for Applied Research in Ramallah, to implement and evaluate the pilot programme in Palestine, which has worked with 158 children.
That successful pilot has now led the Children and War Foundation to make the training in the manual globally available for disaster and war torn areas.
"The programme that has been running in Palestine has shown very positive results," said Dr Barron, who has an extensive record working on trauma studies in Palestine and with the Children and War Foundation.
"Children have reported flashbacks stopping, a greater sense of not being alone in their suffering, and being able to share their story, which is particularly important in a culture where adolescent voices are frequently not heard.
"The counsellors on the programme have been working with groups of children, all aged 10 to 18 years-old. The sessions are focused on some of the major issues they face, letting them understand that their responses to grief are normal, in a very abnormal and extreme situation, and helping them find ways of dealing with the many issues that arise from grief.
"This is a relatively new kind of programme, making use of group-based sessions, but we have shown it can have extremely positive results in this kind of setting."
All of the counsellors who have been trained to deliver the programme are Palestinian and have worked on some of the past projects involving Dr Barron.
"One of the strengths of this programme is that it builds strength and capacity locally, which is especially important in a place like Palestine where it can be very difficult to establish and maintain any kind of resource," said Dr Barron.
"We are training the people that are on the ground working with these children, so the same model could be applied anywhere in the world. Sadly, it is something that does need to be considered and deployed as wherever we have this kind of conflict or disaster it will be accompanied by grief."
Dr Barron's work in Palestine has received support from the Dundee-Nablus Twinning Association. The relationship between the two cities was marked by the twinning arrangement in 1980.
For more on the Children and War Foundation see: http://www.childrenandwar.org/about-us/
For media enquiries contact:
Grant Hill
Press Officer
University of Dundee
Nethergate, Dundee, DD1 4HN
Tel: +44 (0)1382 384768
Mobile: 07854 953277
Email: g.hill@dundee.ac.uk