The American who came to Dundee to study American History and found love
Published On Wed 16 Nov 2016 by Grant Hill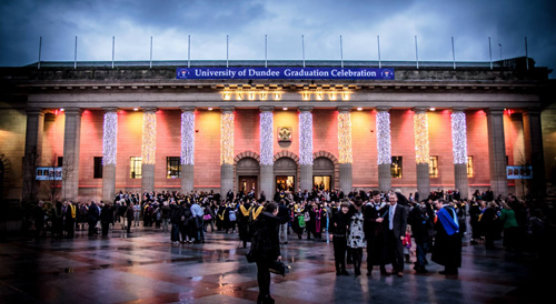 The University of Dundee turned out to be the best place for American Jonathan De Vries to study his country's history, for both professional and personal reasons.
Jonathan (35) moved from Wisconsin to carry out his Masters in American History at the University in 2009. He quickly established himself as a star student and has gone on to obtain a PhD in the subject, which he will receive at the University's Winter Graduation ceremony on Thursday, 17th November.
In addition to his academic success, Jonathan has been an outstanding contributor to the University since arriving in Dundee, working as an undergraduate tutor and as a student ambassador.
Moving to Dundee also proved lucky for Jonathan in other ways. It was here that he met his wife Jennifer, a nursery teacher who was studying at the University at the time. Jennifer will accompany Jonathan at Graduation, along with his parents.
Things could have turned out very differently for the couple had a very simple gesture not persuaded Jonathan that his future lay in Dundee.
"I had completed my undergraduate degree at the University of Wisconsin–Platteville and had already decided to study in Scotland," he explained. "I had offers from several universities but as soon as I applied here I was given a Dundee email address. It felt as if I already belonged at the University and we had an established connection."
Jonathan now teaches History undergraduates and in this regard he has been getting help from Jennifer, drawing parallels between the experiences of learners at very different stages of their educational journeys.
"Jennifer gets them before they even start school and I get them at the very start of their University career but they are both adjusting to new experiences," he continued. "It's a new experience for both groups. They are unsure what's going on and how to relate to the environment. So we help each other out, particularly with icebreakers. You'd be surprised how many icebreakers for nursery school children work with undergraduates."
Jonathan's PhD focused on the history of Kentucky. He noticed many historians tend to focus on the early settlers in America or established communities, "You've either got nothing, or you have Little House on the Prairie," he explained. "I wanted to find out how you get to that point. I tried to fill in that gap."
Jonathan will graduate with a PhD in American History on the afternoon of Thursday, 17th November. He will join around successful students who will feel the tap of the Dundee bonnet in the Caird Hall. The traditional Dundee bonnet – spun, woven, dyed and embroidered for the University by the Dundee Bonnetmakers Craft – is used by the Chancellor, Lord Patel of Dunkeld, symbolically to confer degrees on graduates.
The graduation ceremonies take place on Thursday, 17th November and Friday, 18th November. Graduation Receptions take place each day at Dundee University Students' Association from 4 pm to 7pm on Thursday and from 2pm-5pm on Friday.
For media enquiries contact:
Grant Hill
Press Officer
University of Dundee
Nethergate, Dundee, DD1 4HN
Tel: +44 (0)1382 384768
Mobile: 07854 953277
Email: g.hill@dundee.ac.uk