'Take me to the Bridge!' marks 50 years across the Tay
Published On Wed 3 Aug 2016 by Roddy Isles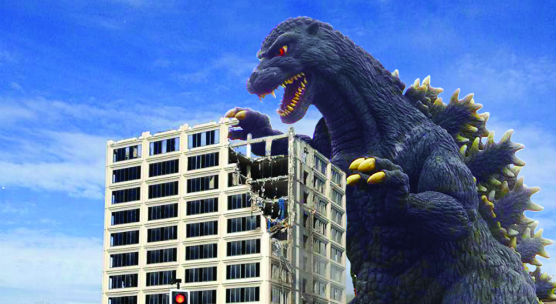 The University of Dundee's Gair Dunlop has brought together work from local artists and writers for a publication marking the Tay Road Bridge's upcoming 50th anniversary.
Irreverent yet celebratory , 'Take me to the Bridge!' is a 24-page artists' newspaper enabling members of Dundee and Fife's creative community, including several writers and artists from the University, to explore what the bridge means to them and the region.
Contents include Eddie Summerton's investigation of rumours of royal skulduggery, Janice Aitken speculating that a well-known Japanese monster is the true force behind the Waterfront development, and Deirdre Robertson recalling the legendary Lemon Tree at the Bridge access.
Gair, Course Director of Time Based Art & Digital Film at Duncan of Jordanstone College of Art & Design, said, "I am originally from Glasgow and when I first came to Dundee the Tay Road Bridge had already been there for many years. I now live in Fife and cross it every day.
"The Bridge is such a vital part of our lives, yet we take it for granted so I wanted to mark its anniversary in some way. 'Take me to the Bridge!' is an unofficial newspaper which incorporates humour, history, and daily life, as portrayed by contemporary artists and writers.
"The Bridge is a symbol as well as a route, and a place where rivalries and jokes about the two ends can coalesce. It is also a totemic structure in the self-image of Scotland as a modern country and therefore gives a great opportunity for artists and writers to reflect on modernism as lived experience rather than ideal form."
'Take me to the Bridge!' has been made possible thanks to a grant from the Fife Craft & Visual Artist Project.
The paper is currently available to buy from Dundee Contemporary Arts and Tatha Gallery in Newport. Copies, costing £2 plus postage, can also be ordered direct from Gair Dunlop via gairmail@gmail.com.
For updates, see http://taybridge50.blogspot.co.uk
For media enquiries contact:
Roddy Isles
Head of Corporate Communications
University of Dundee
Nethergate, Dundee, DD1 4HN
Tel: +44 (0)1382 384910
Mobile: 07800 581902
Email: r.isles@dundee.ac.uk